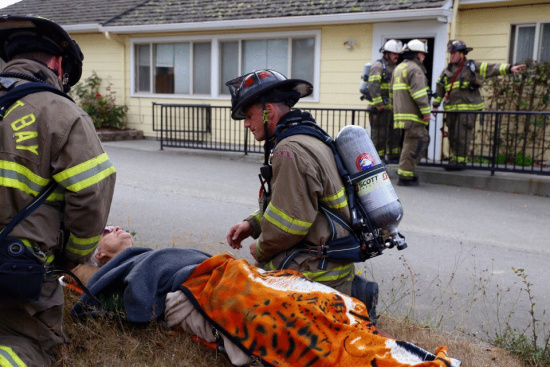 UPDATE, 2:16 p.m.: Humboldt Bay Fire Battalion Chief Kent Hulbert tells the Outpost's Andrew Goff, on the scene, that firefighters were called to the facility after workers noticed electrical smell in the air. When they arrived, firefighters noticed a light haze emanating from the building.
The facility was fully evacuated, and an ambulance was requested for one patient "as a precautionary measure," according to Hulbert. Everyone has since been let back into the building.
One fire truck is remaining on scene to await PG&E's arrival, according to scanner traffic.
###
Smoke filled a Henderson Street assisted living facility a few minutes ago, triggering alarms and summoning Humboldt Bay Fire to the scene.
The first firefighters on the scene determined that the cause of the smoke was electrical. PG&E was called to the scene. An ambulance was requested for one patient.
The fire was at "Especially You," a home for people suffering from dementia diseases such as Alzheimer's disease on Henderson between A and B streets.