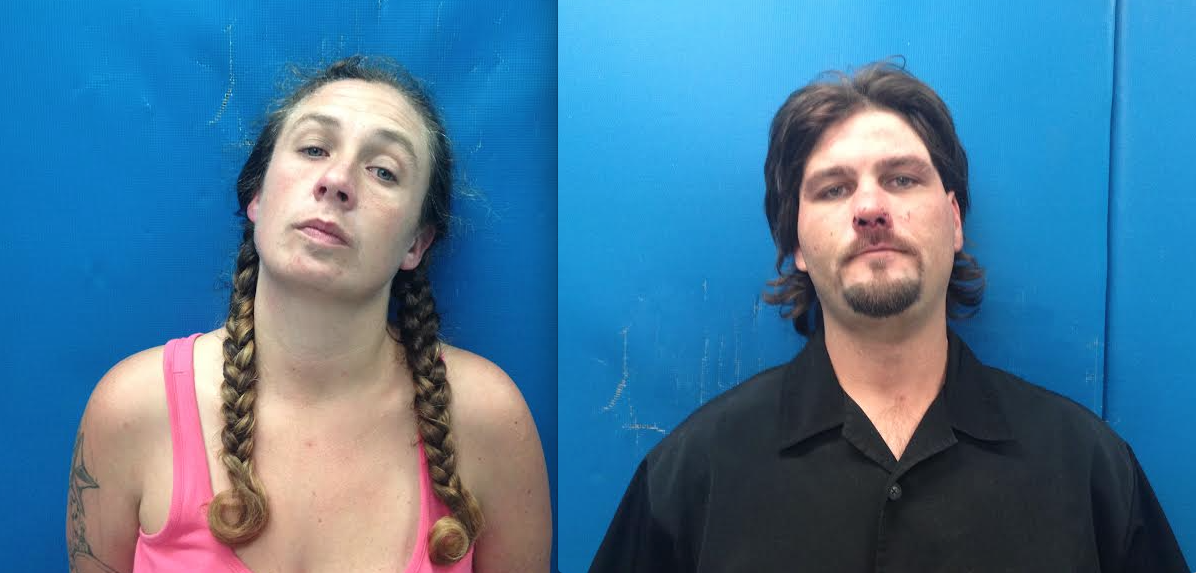 Ferndale Police Department press release:
On September 22nd, 2015 at approximately 0030 hours, Ferndale Police Officers arrested 33 year old Eureka resident Allison Nicole Newman and 37 year Fortuna resident Gerald Peck for possession of a large quantity of methamphetamine, transportation of methamphetamine and possession for sales of methamphetamine.

Ferndale Police Officers were on patrol in the area of Highway 211 and Port Kenyon Road, just outside of the City of Ferndale, when one of the officers observed a lighting violation on the vehicle driven by Peck. Officers learned Newman was on searchable probation for narcotics. During a weapons pat down of the driver, Peck briefly struggled with one of the officers, broke free from the officer and fled on foot into a dark grassy field. Two officers engaged in a foot pursuit, where Peck came face to face with another officer and took a fighting stance. Officers took Peck to the ground after he refused to comply with verbal commands to surrender.

During the ground struggle, Peck attempted to regain and shove officers off of him and flee again. While they attempted to restrain him, Peck elbowed one of the officers in the face causing visible injury. The officer sustained a minor injury, which did not require medical treatment. Eventually, officers were able to overcome Peck's resistance and take him into custody. Search incident to arrest, Peck was found to be in possession of approximately one ounce of methamphetamine. In addition to the methamphetamine, officers located approximately 100 small unused "dime size" plastic baggies consistent with packaging for sales of controlled substances.

Peck was arrested and booked on the following charges:

V/C 24601, No license plate light
V/C 5201, Obstructed rear license plate
P/C 69, Violently resisting officers causing injury
P/C 148(a)(1), Resisting arrest
H/S 11377(a), Possession of methamphetamine
H/S 11378, Possession of methamphetamine for sale
H/S 11379, Transportation of methamphetamine for sale

Newman was searched in accordance to her probation terms and officers located methamphetamine and packing consistent with methamphetamine sales. Hypodermic syringes were located inside of the vehicle.

Newman was arrested and booked for the following charges:

H/S 11377(a), Possession of methamphetamine
H/S 11378, Transportation of methamphetamine for sale

Both Peck and Newman were booked into the Humboldt County Correctional Facility.