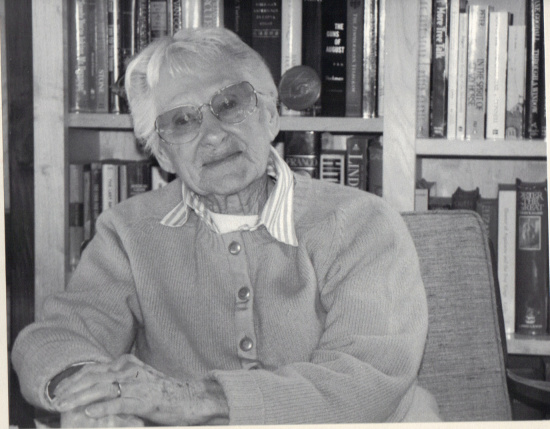 Lucille was born in Santa Cruz to Gerald and Gladys Bartlett, the second of six children. Her love of the redwoods began early and remained strong throughout her life.
She was an accomplished environmental activist and conservationist, known to many as the "mother of Redwood National Park."
1964: She helped form the North Group of the Sierra Club's Redwood Chapter and led in the battle to preserve the remaining ancient redwood forests in the region. Her hard work and dedication led to the establishment of Redwood National Park in 1968, and ten years later, its expansion.
1970s: Elected chair of the North Group and held this position for 8 years.
Founding board member of the Northcoast Environmental Center, and the Redwood Natural History Association.
Began working for passage of the California Coastal Zone Protection Act.
Worked for the Wild and Scenic Smith River, the passage of the California Wilderness Act, and the designation of the Trinity Alps, Marble Mountains and Russian Wilderness Areas.
1985-1990: Coordinated the annual Coastal Clean-up Day for Humboldt and Del Norte Counties.
Memberships in the following organizations: The Sierra Club, The Wilderness Society, American Wilderness Alliance, Defenders of Wildlife, California Wilderness Coalition, Friends of the River, The Nature Conservancy, Save-the-Redwoods League, The Audubon Society, League for Coastal Protection, Planning and Conservation League, Friends of Del Norte, Friends of the Earth; and others.
Awards included: Special Service Award (National Sierra Club), Woman of the Year Award, Certificate of Recognition from the State of California, and many others.
Prior to her involvement in the redwoods, Lucille was competitive in amateur skiing and golf. Later in her life she enjoyed fishing, hunting, hiking and backpacking.
Preceded in death by her grandparents, her mother and father, brothers Gerry and David and Ssster Ursula; also her late first husband, Leo Hull, and her late second husband, William Vinyard.
Lucille leaves behind her two sisters, Jean and Ellicott, all of the nieces, cousins, and her many, many friends (too many to list here). She will be greatly missed by her family, friends and conservationists everywhere but her inspiration carries on.
A memorial service will be held at the Kate Buchanan Room at Humboldt State University on May 22, 2016 at 2:00 p.m. The family has asked that in lieu of flowers, donations may be made to the "North Group Environmental Education Fund" and mailed to North Group Sierra Club, P.O. Box 238, Arcata, CA 95518. Donations may also be made to the Humboldt State University Library Vinyard and Van Kirk Trust by going to the following link: https://library.humboldt.edu/giving/vankirk.html.
###
The obituary above was submitted by Mia Edington. The Lost Coast Outpost runs obituaries of Humboldt County residents at no charge. See guidelines here. Email news@lostcoastoutpost.com.