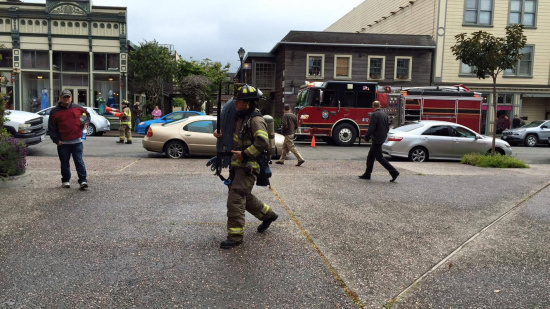 UPDATE, 5:12 p.m.: Kim Kramer, one of the Healy Building owners, emailed in with her account of what caused today's scene.
"Apparently a transient was in the lobby and jammed a stick into a sprinkler head as he headed out the door," she writes. The downstairs lobby and stairwell were flooded but a Kramer construction crew and Restif Cleaning workers cleaned the place up.
# # #
Original Post: Firefighters are flooding Old Town right now after a fire alarm went off inside Second Street's Healy Brothers Building, which houses the Siren's Song Tavern and several offices. Callers to the local dispatch center reported that there was an odd chemical smell inside the building, and that some automatic sprinklers had been triggered.
However, the first units arriving at the scene quickly determined that there was no fire. They seem currently to be focusing their investigation on the building's elevator. The call has gone out for the Otis Elevator company to come and check out the gear.
Many fire units are being sent back to base. People are being let back into the building.
Second Street is closed between D and E streets while Humboldt Bay Fire continues to sort it all out. We'll update when we know more.