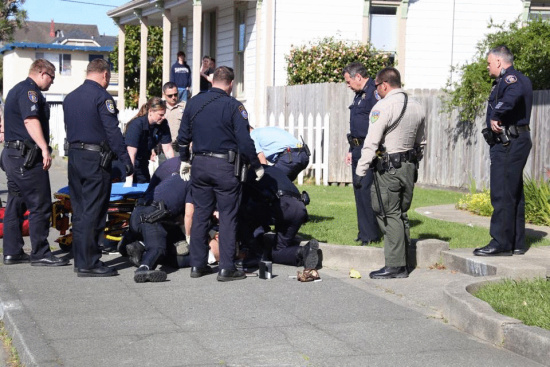 On 04/05/16 at about 9:45 a.m., officers with the Eureka Police Department responded to 6th and P Streets for the report of a male acting erratically and dancing in the streets. The first officer arrived on scene and attempted to make contact with the male. The male, later identified as Pedro Naranjo (27), immediately started resisting the officer. The officer activated his emergency alert tone and all available police units responded to assist. Naranjo was displaying obvious signs of being under the influence of controlled substances.

With the assistance of several officers and medical personnel, Naranjo was ultimately taken into custody and transported to the hospital by ambulance for medical clearance. Once cleared from the hospital, Naranjo will be booked into the Humboldt County Correctional Facility for resisting arrest and being under the influence of a controlled substance in public.
UPDATE, 10:41 a.m.: Tweet from Eureka Police Chief Andy Mills:
Bad meth? Lots of folks flipping out and fighting cops and frightening citizens. Last one a guy from Oregon.

— Andrew Mills (@ChiefAndyMills) April 5, 2016
###
At least 10 cop cars swarmed into intersection of Sixth and P in Eureka a few moments ago, after one officer activated his "emergency alert" button while interacting with a man acting erratically at that intersection. An ambulance was also sent to transport this man to the hospital after he was taken into custody.
According to EPD spokesperson Brittany Powell, who went out to the scene, at about 9:45 a.m. a report came in of a man walking in the middle of the street near that intersection and "acting erratically." When an officer responded and attempted to take the man into custody, he resisted. When the officer activated his emergency alert tone, backup from the Humboldt County Sheriff's Office, the California Highway Patrol and additional EPD units responded.
The man, who Powell said is believed to have been under the influence of an unknown substance, was eventually handcuffed, strapped to a gurney and put into an ambulance, still screaming.
A witness tells the Outpost's Andrew Goff that the man was singing and dancing down the middle of the street before police arrived, and "screaming something about God in Spanish."
We will update when we know more. The arrest was captured on video by area resident Zach Weaver: