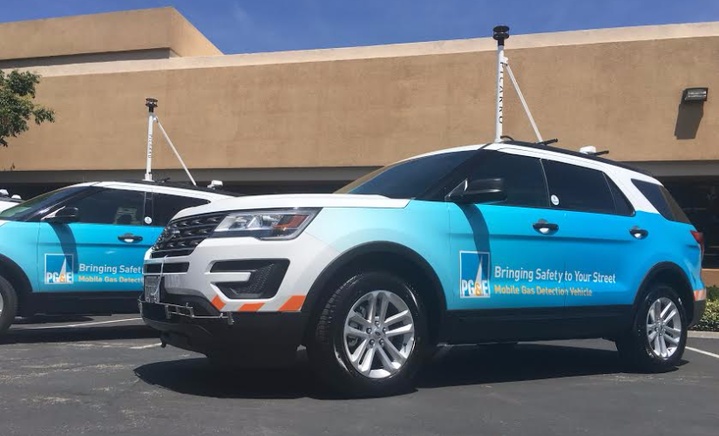 The same skittish citizens who found themselves startled by Google Street View cars may this week find themselves wondering why strangely equipped PG&E SUVs are patrolling Eureka. Don't freak! They're trying to protect you, says PG&E in the press release below!:
Some Humboldt County residents may notice an increased presence of Pacific Gas and Electric Company (PG&E) crews the week of August 22 as the utility continues its mission of becoming the safest and most reliable provider of natural gas in the nation.

As part of a five-year leak survey and maintenance program on its gas distribution pipelines, PG&E crews are now combining the use of state-of-the-art leak detection technology with a streamlined repair process to find and fix more leaks faster than ever before.

The leak detection technology includes a Ford Explorer with PG&E logos mounted with anemometers on the roof to measure wind speed; combined with sensors and computer software inside the car that measures the amount of methane in the air.

Using this vehicle-mounted, leak-detection technology that is 1,000 times more sensitive than traditional equipment, PG&E is able to identify natural gas leaks with enhanced precision and speed and immediately schedule repairs or appropriate corrective actions.

"Our leak-sensing fleet can pick up even the slightest trace of a natural gas leak and that helps us keep our customers safe," said Carl Schoenhofer, Senior Manager of PG&E's Humboldt Division. "This important gas safety program is helping enhance our system, so we can continue the delivery of safe, reliable, affordable and clean natural gas to our customers."

Crews will be surveying approximately 3,500 service meters and 38 miles of gas distribution pipeline southeast of Eureka, in the area of Sequoia Pak Zoo including portions of Rosewood, Myrtletown, and Cutten.

Weather permitting; the annual surveying will happen between 1 a.m. and 7 p.m. on Tuesday August 23 and Wednesday, August 24. PG&E leak survey personnel will follow with foot patrols in the same area through the evening of the 25th. All PG&E personnel will have PG&E badges.

If a gas leak is identified, it is designated a grade that guides appropriate follow-up action and repair. Some leaks require immediate attention while other, non-hazardous leaks are scheduled for repair at a later date. If repair work is needed, customers may see PG&E trucks and other equipment in their neighborhoods while construction takes place on the natural gas lines, most of which are located under the street and, in some occasions, on property leading to customers' meters.

As part of PG&E's maintenance work, there may also be a controlled and safe release of a small amount of natural gas while the service line is emptied for replacement. Customers may hear a loud steady noise and notice the smell of gas. While gas odors are likely from this work, PG&E encourages anyone with concerns to call 1-800-743-5000.
This program creates an additional layer of protection for our customers. As part of PG&E's commitment to safety, the company has also:

Decommissioned all of the company's 800 miles of cast-iron pipe in its system, replacing it with stronger, more resilient and seismically sound pipe

Opened a

new gas operations control center

in 2013, which employs the most advanced technology available, providing unprecedented visibility into the natural gas system and enabling a more predicative and rapid response in an emergency

Established itself as one of the fastest in the entire industry responding to gas odor calls—averaging 19.9 minutes in 2014

Completed 10 out of the 12 recommendations from the National Transportation Safety Board and work on the remaining two is on track.