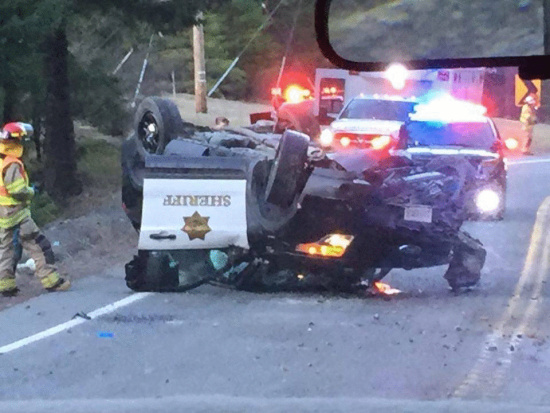 The California Highway Patrol, below, informs us that the deputy involved in yesterday's single-vehicle rollover crash outside of Willow Creek was responding to a report of a fight in Hoopa at the time.
Rolling back the scanner recording shows that only a minute and a half passed between the time the Sheriff's Office got the call on the Hoopa fight — seven to eight people, men and women, fighting in the Ray's Supermarket with weapons including clubs and nunchucks, according to the intelligence at the moment — and the deputy crashing the vehicle. Audio follows:
###
Press release from the California Highway Patrol:
On the afternoon of Thursday, February 12, a Humboldt County Sheriff's Department Patrol Vehicle rolled over causing minor injuries to the driver.

At approximately 4:58 p.m., a Humboldt County Sheriff's Deputy was driving a 2013 Humboldt County Sheriff's Department Patrol Vehicle eastbound on SR-299, near mile post marker 32. At this time the Deputy was responding to an in progress call of a physical altercation in the Hoopa Area. For reasons still under investigation the Deputy lost control of the Patrol Vehicle. The Patrol Vehicle left the roadway and collided with the dirt embankment causing it to roll onto its roof. The Patrol Vehicle came to rest within the roadway. The Deputy sustained minor injuries as a result of this traffic collision.

Humboldt Area CHP is investigating this collision.