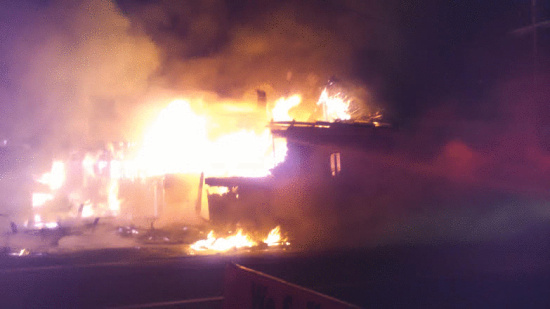 Humboldt County Office of the District Attorney press release:
Jeremy Kish pled guilty to multiple felonies on Wednesday and was sentenced to 12 years in prison today.

Kish, (dob 11/6/84) was sentenced to seven years for the arson he set on May 23, 2015 in Arcata. The early morning fire destroyed the former Alliance Market at 1499 Spear Avenue and an adjacent non-residential structure. Both the Arcata Police Department and the Arcata Fire Protection District responded. They located Jeremy Kish of Eureka close to the scene. Arson is a serious felony that will serve as a strike prior in any future criminal case.

He was also sentenced to five years for four felonies related to his assaultive conduct in the Humboldt County Correctional Facility. Prison time for those felonies will be served consecutively with the time served for arson. He also pled to a misdemeanor charge of criminal threats.

The case was prosecuted by Deputy District Attorney Stacey Eads.
PREVIOUSLY: Arson Suspect in Custody After Early Morning Arcata Structure Fire