UPDATE, 8 p.m.: Suspect identified. See tweet below from Eureka Police Department Captain Steve Watson:
The suspect from today's attempted 187 PC on HCDA Investigators has been identified as Nickolas Johnson (age 24). pic.twitter.com/eq1sEPvUWM

— Steve Watson (@SWatsonEPD) January 27, 2016
The Times-Standard is reporting that Johnson was wanted in connection with the murder of David Ganfield in April of last year.
PREVIOUSLY in the GANFIELD CASE:
###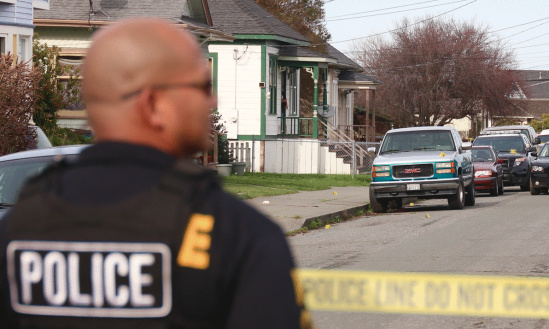 Eureka Police Department press release:
On 01/26/16 at about 11:50 a.m., Investigators with the Humboldt County District Attorney's Office were conducting follow-up on a homicide investigation near the 3200 block of Pine Street in Eureka. The Eureka Police Department's Problem Oriented Policing Unit was a short distance away.

The DA Investigators were attempting to contact residents when a man came out firing an assault rifle towards Investigators without warning. Investigators returned fire, striking the man. The man was placed under arrest and transported to the hospital by ambulance. The man underwent surgery and is expected to survive.

The Critical Incident Response Team (CIRT) was activated and multiple agencies responded to assist. Because the DA's office was involved, a Humboldt County Sheriff Investigator and Eureka Police Investigator were assigned as co-leads in the investigation.

District Attorney Maggie Fleming said, "I have made the decision that because Humboldt County District Attorney Investigators were involved in the shooting, I will not be involved in the review of the case and have asked the Attorney General's Office to handle the review."

Any witnesses to this incident are asked to call Senior Detective Harpham at (707) 441-4060.
PREVIOUSLY: Officer Shoots Man After Being Fired Upon; Investigators Still at Scene Off West Harris in Eureka