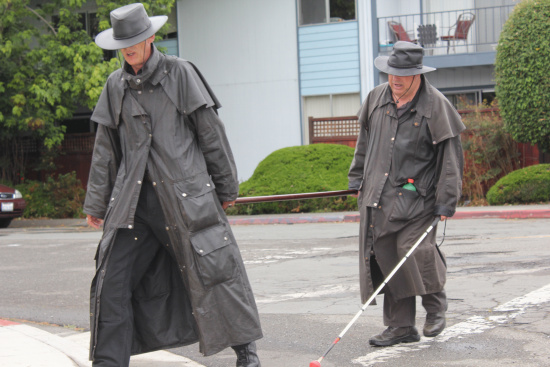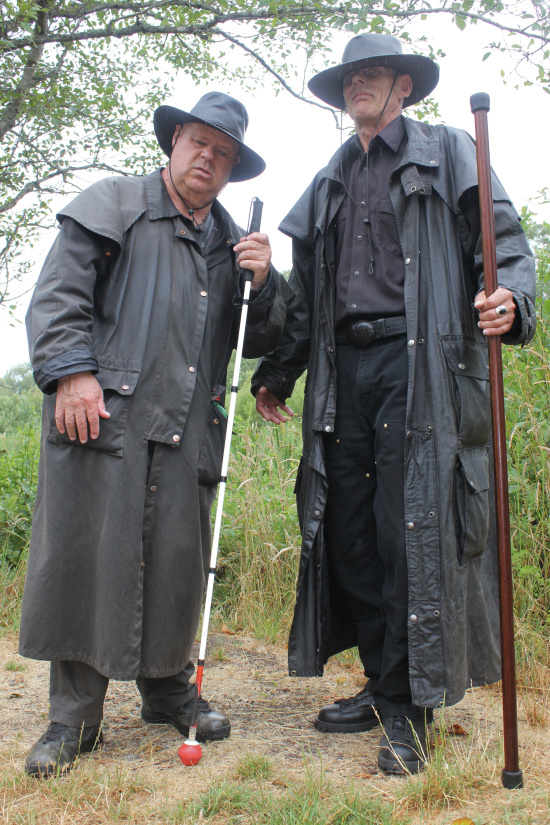 On a stormy summer day in Arcata, two men dressed in all black march single file down a residential street grasping at either end of a long wooden staff they carry between them.
Rain drips from the full-brimmed hats they've pulled down past their eyes like gunslingers of the Old West, and their matching duster coats sway with each carefully-planned step.
At the back end of the staff is Eureka resident Robin Anderson; in front, his roommate, caretaker and closest friend John Patterson.
The duo moved to Humboldt county three years ago, fleeing the crime and congestion of the Bay Area for a place better suited to their slow-paced lifestyle.
Anderson is blind, and has been his whole life.
"I like being outside in nature where I can smell the redwoods. When you lose your vision your other senses pick up. Your smell, touch, hearing, and just the feel of things," Anderson said during a chat on the Arcata Plaza. "It's a lot safer up here and more laid back. As soon as I get down past Ukiah into Napa and Sonoma, I can feel the stress in everything; the fast paced congestion coming on."
Until five years ago, he navigated the world on his own, counting his steps, walking the same path, and dealing with the occasional mugging. But that all changed when he and Patterson met one day at a Santa Cruz bus stop.
"Robin was sitting on a bench all by himself; he looked kinda alone and in need of some of some assistance," Patterson said. "So I walked up to him and asked him if he needed some help; we kinda just became friends ever since."
After closing what little sight he had at the age of 40 due to a degenerative eye condition, Anderson was in need of someone to read his mail, pay his bills and help him get to doctors appointments. Serendipitously, Patterson had experience assisting disabled people through a volunteer program called the Guardian Angel's. The 58-year-old Ohio native was also traveling through California in search of a permanent place to call home.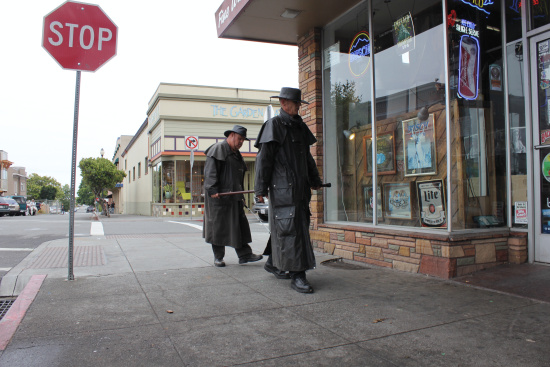 Anderson offered Patterson a living room bed in his Sunnyvale mobile home in exchange for his assistance. Patterson also started receiving mothly stipends from the government to be Anderson's permanent caretaker. Five years later they're thick as thieves, and the two can often be seen walking around Arcata and Eureka together, single file, and always wearing matching outfits.
"They're made for the Australian Outback where they have extreme temperatures both ways. They're oil skinned and waterproof, which is nice on the coast," Patterson said. "I've been wearing the same outfit for 30 years, then we came up here where it's rainy and cold, and Robin said he wanted to get something similar to mine."
Despite their intimidating appearance, Anderson and Patterson are both men of God, and spend their days helping people in need. Anderson is involved with many community outreach programs with various churches throughout California, and he and Patterson often go out into the streets of Eureka to pass out sandwiches.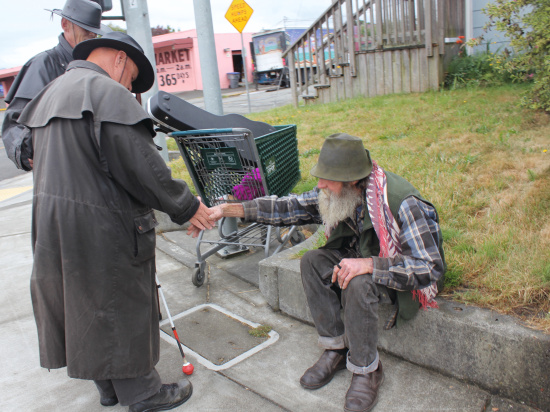 "We try to guide people to services for help if they want help and look out for people in distress," Patterson said. "I lost a daughter to violent crime, that's kinda how I got into the Guardian Angel thing."
Anderson also works with local blind residents who are new to the area, helping them get acclimated to the new environment and encouraging them to get out of the house.
"You don't have to see to believe," Anderson said. "I do the best I can, and I don't give up. I tell other disabled people to 'get out there and do it, and don't let people tell you, you can't.'"
Anderson is also an advocate for making travel more accessible to the blind. Redwood Transit Authority Disabilities Specialist Consuelo Espinosa told the Outpost that Anderson has been involved with adding the electronic audio announcements now installed on every bus.
"We've been working with Robin, and actually we're in the works of [improving accessibility for blind riders] when he came around," Espinosa said. "I rode with him on a couple of routes because he was having difficulties. We have some areas we need to work on, which will require funding, but we made some really good notes with Robin and we've been working on accomplishing as much as we can."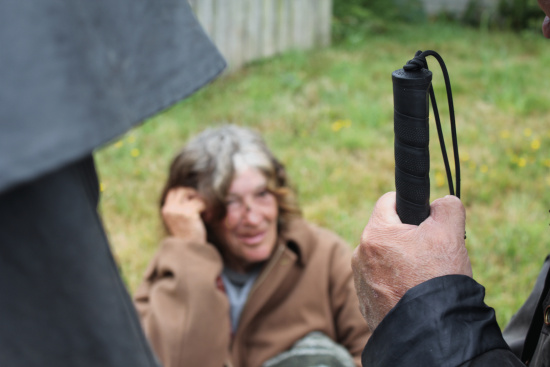 Although Anderson has relied on public transportation for most of his life, the Detroit native dreams of one day owning a self-driving car.
"It's always been my dream to drive, but I've never driven in my life," Anderson said. "I love the old cars, I don't like these new cars. When I hear a 'VROOOOM,' that's a car."
Anderson is also an adrenaline junky with a passion for roller coasters.
"Love 'em!" Anderson said. "The Santa Cruz Boardwalk, Great America, Six Flags, Disneyland, I like to hit 'em all. And if you're with me you can ride all of the rides twice in a day because I get the VIP treatment."
Anderson and Patterson also enjoy sporting events together. They razz each about their Ohio State, Michigan football rivalry, and they drive down to San Francisco every time their Giants are in the World Series, sitting right outside the stadium where they can still hear the crack of the bat.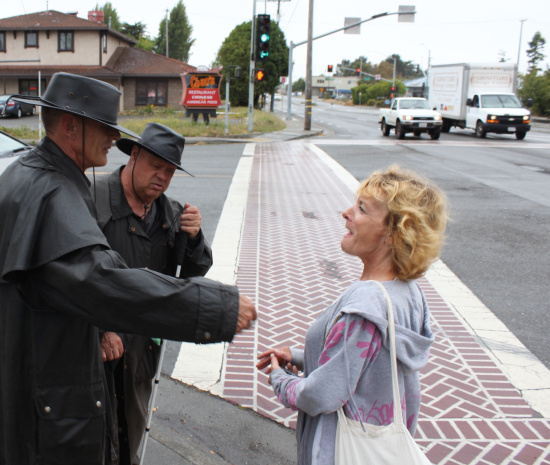 "I like baseball best because the announcers describe it better," Anderson said. "We went to McCovey Cove for three of the last three Giants' World Series and listened to the radio outside the ballpark."
Although the inseparable pals frequently traveling for volunteer work, thrill seeking, and the occasional World Series, they say they plan to stay in Humboldt County, where they can live out the rest of their days camping, fishing, going to rock shows and breathing the fresh air.
"I took a bus back to Santa Cruz after two years after being up here, and I go 'John what's that smell?!'" Anderson said. "He goes, 'that's the pollution you use to live in,' And I go 'Yuuuuck!'"
They've also made a bucket list, and plan to travel the country to experience as much of the Pacific Northwest as they can.
"He's getting up in age and we're doing a bucket list thing to get out and travel," Patterson said. "We'll probably be hangin' out until the day one of us dies."