From the Eureka Police Department:
The Eureka Police Department 2016 second quarter crime statistics have been recorded. Offenses reported as crime statistics are determined by the FBI Uniform Crime Report Program (UCR) and are classified as crimes against persons (violent crime) and crimes against property (property crime).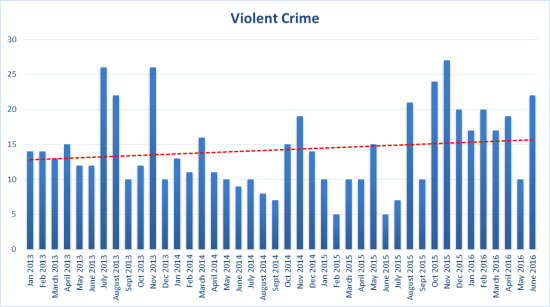 There were 51 violent crime reports taken during the second quarter of 2016, up 21 reports compared to the second quarter of 2015. This increase was found in both armed robberies and aggravated assaults. The 2015 Attorney General Crime in California Report shows that violent crime went up across the state.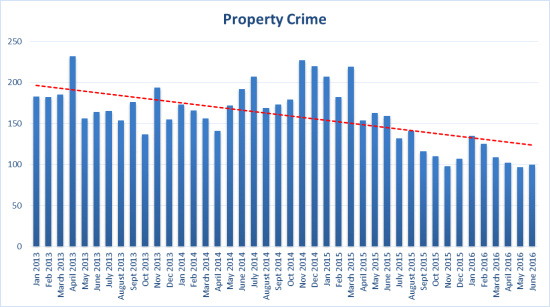 Property crime reports went down about 37% compared to the second quarter of 2015. The decrease in property crime is attributed to a lower number of larceny reports. Stolen vehicles and residential burglary reports have remained steady. In a recent EPD survey, 90% of respondents said they would be willing to report property crimes online. EPD is working on an online reporting system. We anticipate that when online reporting goes into effect, property crime reports may see an increase.

Calls for service, including officer-initiated, increased by 1,840 when comparing the first and second quarters of 2016. Call types that saw notable increases were patrol checks, foot patrols, Eureka Municipal Code violations, and animal calls. These increases are direct results of regular patrols of rotating camping lots, the panhandling ordinance going into effect, and the hiring of a new Animal Control Officer.
###
Full stats from January 2013 to present available in PDF form here.