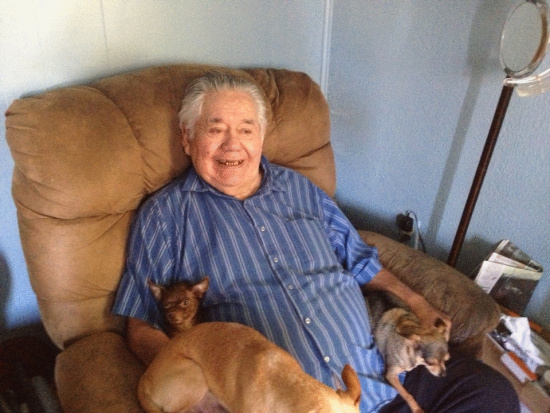 Willard Earl Carlson Sr. was born into this world on September 16, 1926 in Eureka. He departed us June 6, 2016, to return to his Creator and to be reunited with his loved ones.
Willard or "Papa" as he was affectionately called by his family members, was born to Milton Carlson and Delia Thompson. He had one brother, Archie Thompson Sr., and 4 sisters, Annabelle, Violet, Millicent, and Della. He lovingly fathered 10 children — Willard Sr, Anne, Shontay, Woodsie, Shalene, Brooke, Forrest, Allison, Karrie, and Trish – and was a loving husband to his wife of nearly 60 years, Shirlee. Papa will be dearly missed, as he was a "Rock" within his family structure and community, providing much knowledge, guidance, support, and love to all that he knew.
Willard was born in Eureka and lived many places throughout his childhood. Some of his fondest early memories were of his Momma Delia and brothers and sisters. Willard also stayed with his Grandma Jerry after the untimely passing of his mother. When Willard was very young he went to Stewart, Nevada to the Indian Boarding School. He stayed there awhile and then hitchhiked back home.
Willard was an extremely hard worker throughout his entire life. His strength and resiliency was really quite amazing. He was also very intelligent and kind. He had many jobs even before the age of 16, when he entered the Marine Corps. He sold ferns and mosses for money as young as age 9, and he also worked as a powder monkey blowing up rocks to build parts of the highway as a teen. Willard was always proud of his strong work ethic and had a job and a car at the age of 15 – nicer than his dad's, he would brag.
When Willard was 16 he joined the Marines and went to Japan to fight for his country. He was honorably discharged at the age of 18 after being wounded in combat. Willard was proud to be a Marine and WWII veteran. Upon returning from the service, Willard held various jobs, He eventually went to mechanic school down in Oakland, where he met up with many Native friends including the Begays, Montgomerys and even Arlen Charles.
Willard was a skilled mechanic but eventually found his niche working in the woods. Willard worked for over 30 years at Simpson Timber Co as a logger. He loved his time working in the woods. It was a job befit for him. He got to be out in nature and to work hard. He retired from the woods when he was 68. His wife had told him that he couldn't retire until his youngest daughter Trish graduated from high school, he just quite didn't make it that long. He had many fond memories as a logger and of the people he worked beside.
Willard loved to fish, hunt and eel in the ancestral Yurok territory and beyond. His wife would sometimes drop him off and pick him up a couple of hours later, he would be ready to be picked up with a deer or an elk. He had fished the Klamath River for most of his life, and was just getting ready to hang some new nets before his passing. He loved spending time up at his cabin on McKinnon hill with his partners Mr. Michael (Galyean), Bill Crutchfield, and Gary Albers. It was by far one of his most favorite places and some of his happiest moments where lived there.
He also loved fishing at Young's Bar. He would bring his family and friends to these spots that he so enjoyed. He spoke Yurok and had an abundance of cultural knowledge. He knew lots of stories, histories and even some beautiful songs, he would share his stories with his family and friends, and they were often times quite colorful and full of lessons to be learned. His stories will be cherished. Throughout his life Willard spent much time up and down the rivers learning from his elders. He was also an avid gatherer, gathering sticks, roots, ferns, foods, medicines, acorns, etc. often by the truckload giving to elders and those in need. He loved giving fish and deer away, and sharing with others.
Willard was raised in the "old" ways, always worked hard for the benefit of his elders, family, friends and community, he was also very giving and generous with his time, possessions, love and knowledge. He treated all people well without judgment and tried to help out as much as he could as he was taught to do so, in the Yurok tradition. Willard had many close friends throughout his lifetime and spent time with them up and down the rivers and throughout Humboldt and Del Norte County. Willard lived many places throughout his life, but eventually settled in Blue Lake in the early 1960s with his loving wife Shirlee. He raised his family there and made a good home and life for his family and pets. Willard was a pet lover and had many pets throughout the years.
Willard and Shirlee had a very loving marriage. They traveled together everywhere, cherished one another and where each other's "everything." Willard valued his culture, traditions, friends and family. Willard was full of love and strength. He shared these wonderful attributes with his family and friends. He was in return deeply loved by them. He will truly and utterly be missed as he is irreplaceable. They don't make them like "Papa" anymore.
Willard was preceded in death by his parents, Delia Thompson and Milton Carlson, Aunts Karrie Turner and Rosie Jack, bother, Archie Thompson, sisters Violet, Annabelle, and Millicent, by his children Brooke, Allison, Shalene, Woodsie, and Forrest, and by nephews Mark, Delmar and Redsky and nieces Valerie and Stormy Joy.
Willard is survived by his loving wife Shirlee, children Willard Sr., Anne, Shontay, Karrie, and baby Trish, sister Della, Nieces and Nephews Archie Jr, Randy, Debbie, Sherry, Trudy, Willie, and Timmy Thompson. Grandchildren, Daniel, Thunder, Chai, Halona, Nena, Christina, Niqwich, Pergish, Bill, Shalene, Will-Bear, Holly, Jordan, Chad, Chelsea, Forrest, and Chasta, Great Grandchildren, Aiyanna, Chance, Kieshanne, Cha-ska Shontay, Selena, Wi-the-gah, Elijah, Bernadino "Papas", Sunny, Lawrence, Josie, Mia, Israel, Adrienne, Eileen, Marco, Mason,and Makenna. And numerous others.
Pall Bearers will be: Daniel Whitehurst, Thunder McCovey, Pergish Carlson, Niqwich Carlson, Will Bear Carlson, Chad Carlson, Forrest Carlson Jr., Mike Carlson, Archie Thompson Jr., Randy Thompson, Willie Thompson, and Timmy Thompson
Honorary Pall Bearers are: Willard Carlson Jr, Richard Nelson, Frank Lara, Charles Huntzinger, Charles Huntzinger Jr., Russel Montgomery, Gary Albers, David O'Neill, Barry Buzzard, Tommy O'Rourke, Elijah Casarez, Cha-ska Amen, Lawrence Whipple, Sunny Whitehurst, Pete Thompson, Ira Thompson, Jeremy Thompson, Kae-ghaet White, Ted Johnson, Carl Begay Sr., Carl Begaye Jr., Jason Begaye, Nolan Begaye, Doug Davis, Bill Williams, Gig Eberhardt, Arlen Charles, Brandon Williams, Billy Cobb, Bobby Cobb, Jerry McCovey, Jimmy Evanson, Larry "Gus" Charles, Frank Rojas, and numerous others.
Memorial Services will take place at the Yurok Tribal Office in Klamath California, Saturday June 11, 2016 beginning at 11 am. Interment will follow at the Yurok Veterans Cemetery on Bald Hills Road, with a reception to follow at the Morek Won community Center on McKinnon Hill. Visitation will be at Pauls Mortuary in Arcata from 12-4 on Friday, A wake will be held Friday evening at Willard's grandson Daniel's house in Mckinleyville at 2054 Alderwood Circle, McKinleyville.
###
The obituary above was submitted by Willard Carlson's family. The Lost Coast Outpost runs obituaries of Humboldt County residents at no charge. See guidelines here. Email news@lostcoastoutpost.com.