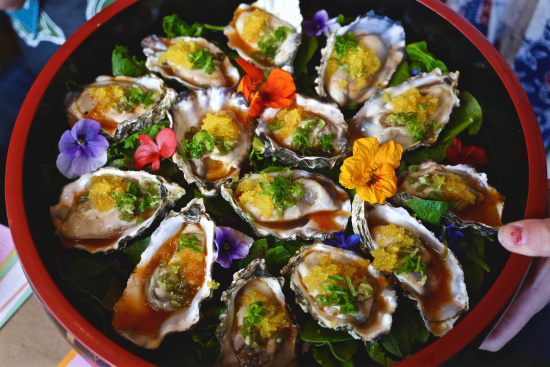 O dear. LoCO has somehow once again managed to finagle itself a coveted slot judging this year's competing bivalves at Humboldt's most anticipated annual social obligation, Arcata Main Street's Arcata Bay Oyster Festival. Thus, safely tucked away inside Mazzotti's we sit this fine Saturday at a long table of local alleged somebodies sucking down heavily garnished invertebrates.
This is rough, kids!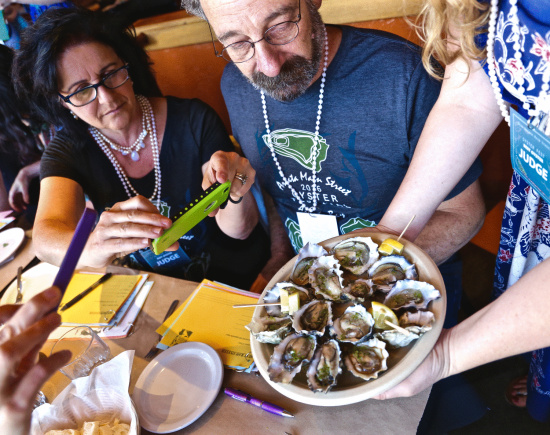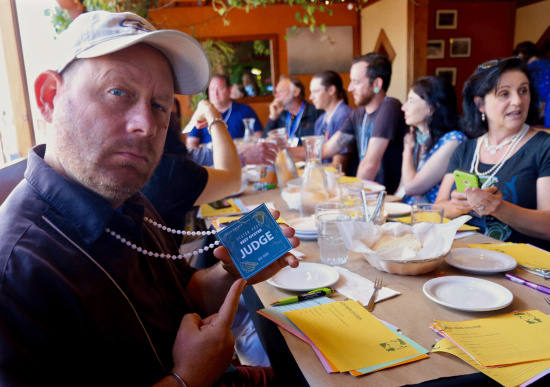 And who else happened to weasel his way into judging duties? Hey, it's Humboldt County Third District Supervisor elect Mike Wilson! Why is he qualified to judge? Well, in his current role as Third District Humboldt Bay Commissioner he oversees the part of the bay where oysters are actually grown. Works for us! Additionally, he says he's eaten quite a few oysters over the years.
"I didn't start out eating a lot of oysters, but I've come to know them," Wilson says. Great!
Also, it's his birthday. We asked Mike if he'd like to supply pithy reviews to accompany our 2016 gallery of oyster porn. Eventually he said yes.
To be clear about how judging works, over the span of several grueling hours judges were asked to try this year's entries without any knowledge of who prepared them (their creators were later revealed to us and have been listed below). The winners will be announced from the Oyster Fest stage this afternoon, at which point we'll update this post.
OK, let's look at oysters! Hooray!
# # #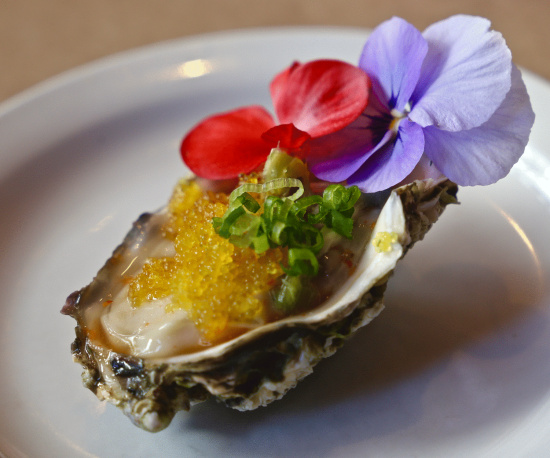 Sushi Spot (WINNER: BEST RAW OYSTER): Goose point raw oyster served with sesame-ginger vinaigrette, pickled wasabi root, yuzu infused tobiko and green onions (flowers)
Mike sez (in haiku):
"Japanese mountain
Miniature oranges
Damn, that was so good"
# # #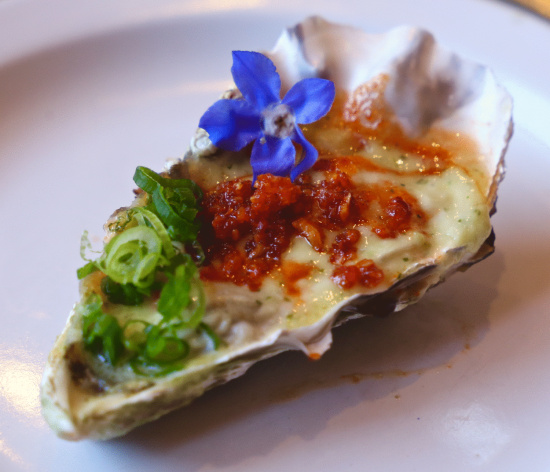 Sushi Spot (WINNER BEST COOKED OYSTER): Goose point BBQ oyster with jalapeno-garlic aioli, honey sriracha, crunchy garlic and chili oil, and green onions
Mike sez: "I'm calling that one flavor fireworks with a satisfying afterburn."
# # #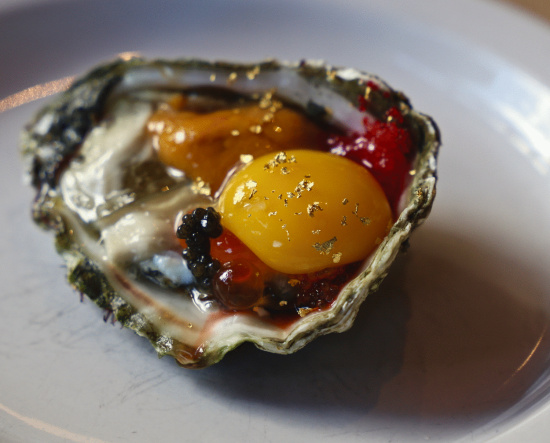 Bear River Casino: Humboldt Gold Rush Humboldt Bay kumamoto oyster with a dash broth, topped with salmon roe, citrus and habanero tobiko black sturgeon caviar, uni and raw quail egg. Dusted with edible gold flakes.
Mike sez: "That had a lot of eggs."
# # #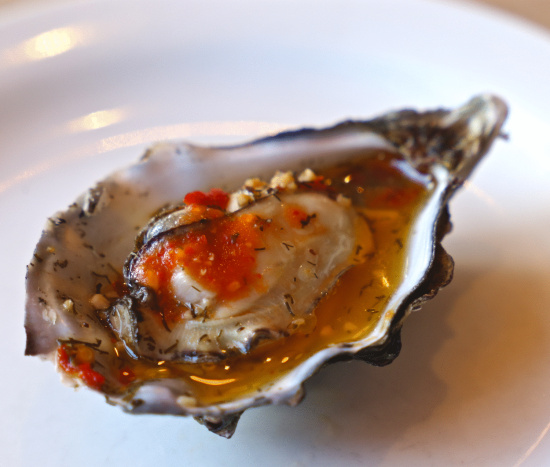 Smiling Oyster Lady: Cooked oysters with butter, lemon, dill and spicy garlic sauce
Mike sez: "A solid aftertaste. I could see that one winning at a Modesto barbecue."
# # #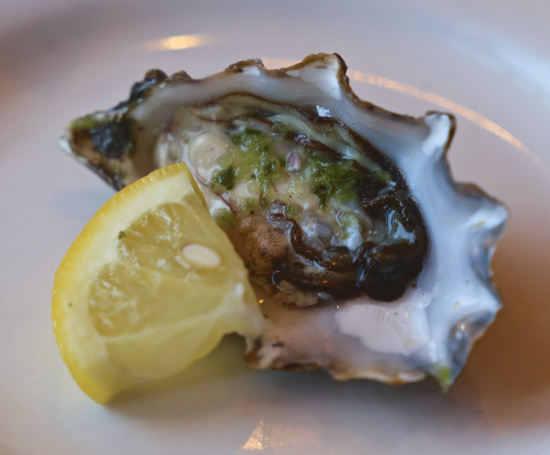 Hog Island Oyster Co.: Raw oysters served with mignonette sauce
Mike sez: "A tango with tangy!"
# # #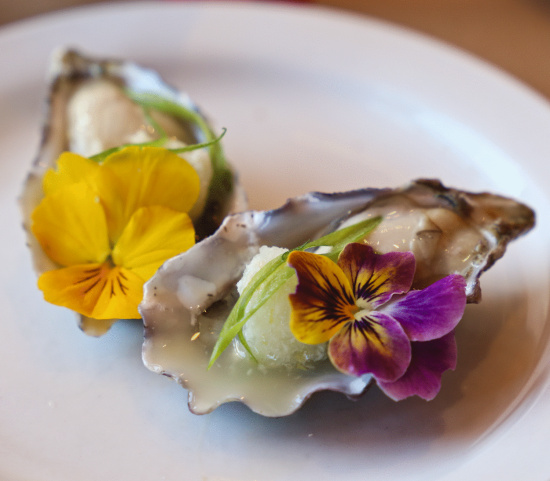 Folie Douce: Raw oyster topped with fresh horseradish and lemon sorbet
Mike sez: "I'm OK with that."
# # #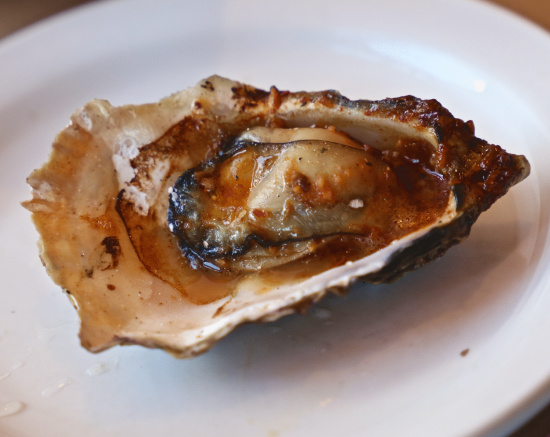 Hog Island Oyster Co.: Barbecue oysters served with chipotle bourbon butter
Mike sez: "Blue collar, worth more than a dollar."
# # #
Bear River Casino: Apple wood smoked oyster topped with candied bacon and pickled habanero served on a piece of fresh endive
Mike sez: "Solid flavor. I think there was an oyster in there."
# # #
Humboldt Made: Barbecued oysters dressed with beer kissed caramel sauce and Chili Pepper Ale
Mike sez: "Bivalve candy."
# # #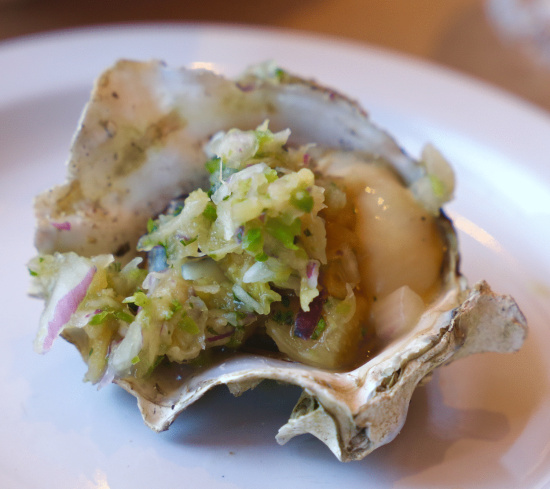 Eureka High Cheerleaders: Barbecued oysters on the half shell with pineapple jalapeño salsa and a dollop of garlic and cilantro
Mike sez: "That definitely would go good on a tropical beach. White sand, in a cabana with a Pacifico. A calming oyster. Medicinal."
# # #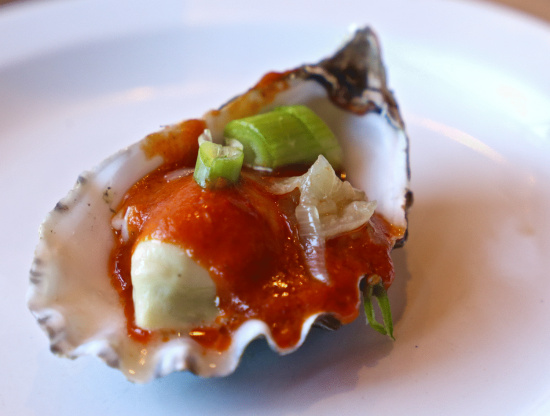 Osprey Oyster House: Pacific oyster with chipotle peppers, garlic oilve oil, lime juice, sugar and vinegar. Topped with caramelized shallots and green onions
Mike sez: "It had a retro look but a very sophisticated interior. This deserves more better words."
# # #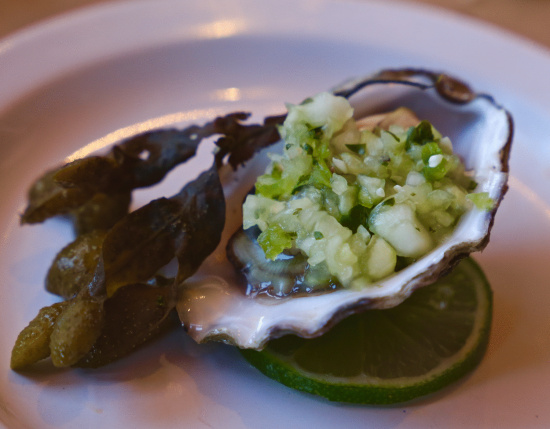 Humboldt Bay Oyster Co.: Grilled Japanese oysters with tart chili cucumber salsa.
Mike sez: "Very Cosmopolitan. Almost west coast Canadian. Refreshingly fresh."
# # #
Folie Douce: Open faced sushi on toasted nori with sushi rice topped with our Japanese grilled oyster
Mike sez: "I sailed away on a raft of shellfish ecstasy and arrived on the shores of a volcanic isle of exotic mystery."
# # #
Again, we'll post the winners after they're announced this afternoon. Did you see anything above that you might want in your mouth? There's still plenty of time to get down to the 2016 Oyster Fest. Come eat these.