UPDATE, Friday, 4:10 p.m.:
Short strike! The Outpost just got the following message via email:
Hello,

We were just informed by our union officials that the strike has ended. We will be returning to regular work duties tomorrow.

Xeff Scolari
-union steward,
CWA Local 9400
# # #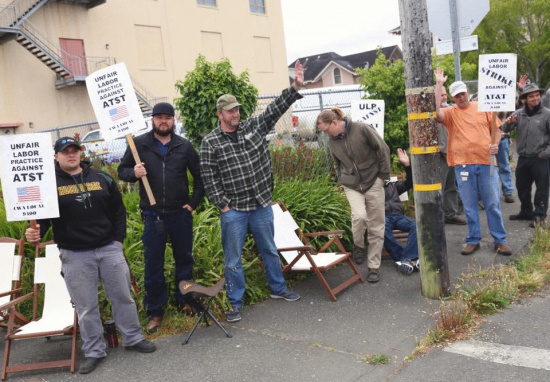 Roughly 4,000 unionized AT&T employees from up and down the California coast went on strike this morning, alleging that the telecom giant engaged in unfair labor practices by making staffing changes without consulting labor leaders, a union rep tells the Outpost.
Shawn Heape, an AT&T lineman and assistant director with the Communications Workers of America (CWA), said the dispute involves service and repair work on landline circuitry used for 911 emergency calls. AT&T management, Heape says, made a unilateral decision to reassign that work from one class of employees to another class. While this may sound like a minor change, the point, according to Heape, is that the union wasn't consulted.
"There was no information provided from the company to the union, which is an unfair labor practice," Heape said. "They're supposed to be open and honest." In response, employees with CWA Locals 9400 and 9510 have gone on strike, and a grievance was filed with the National Labor Relations Board. Employees are striking in communities up and down the coast, including Anaheim, Santa Rosa, Martinez, Fort Bragg, Ukiah, Petaluma and many more.
In Eureka, workers are striking outside the AT&T office on Wabash and E streets and a garage at 5749 Humboldt Hill Rd. "Locally I would say there are about 25 of us [striking]," said Eureka tech worker Xeff Scolari. "We don't want it to affect our customers."
According to Heape, AT&T customers seeking installations and repairs of voice over IP 911 services will likely see delays as a result of the strike, which originated in Southern California and will go on indefinitely. The strike will not impact calls made to 911 for emergency services.
In a statement emailed to the Outpost, AT&T spokesman Marty Richter said:
A walkout is not in anybody's best interest, and it's unfortunate that the two union locals involved chose to do that over a matter that can be resolved while employees are at work serving customers and earning a paycheck. We're discussing the issue with the union, and we look forward to resolving it and getting these employees back to work.
He also noted that, "[T]hese are wireline employees and the walkout doesn't affect wireless workers who deal with cellphone business."
Meanwhile, CWA Local 9510, based in Orange County, has the following image posted on its website: