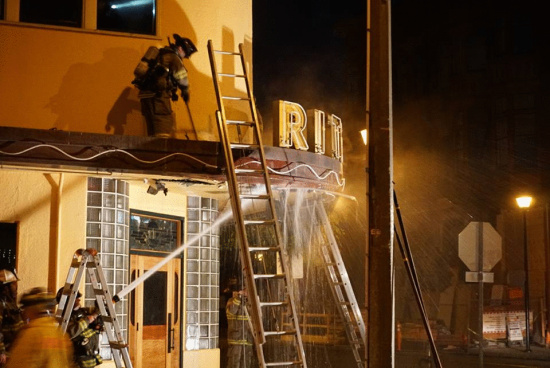 From Humboldt Bay Fire:
On May 11, at approximately 0400 hrs. Humboldt Bay Fire responded to an investigation of an odor of smoke at 433 Third Street. The first arriving unit found an odor of smoke inside the building on the second floor and observed smoke between the ceiling of the first and second floor that was getting thicker. Another engine was requested for assistance, then crews observed smoke and a small amount of fire on the exterior of the building at a light fixture above the entrance to the Ritz Bar. A full structure fire response was initiated including 2 additional engines and two chief officers. The building was evacuated of all tenants. Crews arrived and removed the roofing and ceiling of the exterior overhang and attacked the fire, extinguishing it within 10 minutes of arrival. Crews then removed more of the overhang to ensure that no more of the building was compromised. Two businesses had smoke inside and were ventilated with fans. The fire is under investigation, but appears to have started in a light fixture and is suspected to be caused by an electrical short.

No injuries were reported.

All tenants were able to return to their apartments and businesses by 0600 hrs.

Damage is estimated at $6000.