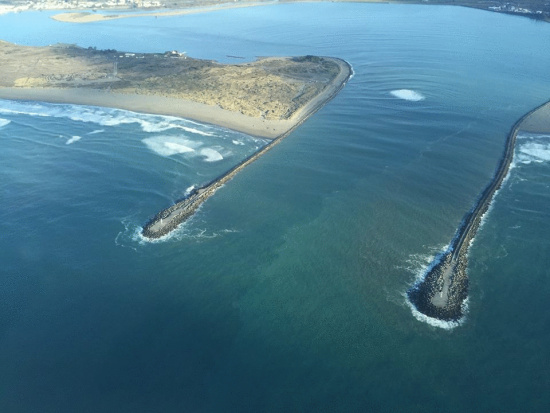 Good news for local fishermen: The dangerously shallow conditions in Humboldt Bay will soon be alleviated thanks to the arrival of two dredges.
"It's good, it's finally getting here," said Harbor District CEO Jack Crider.
The Bayport, a a 303-foot private hopper dredge, is scheduled to arrive on local shores Friday, right on schedule. The Bayport will be followed by the Army Corps of Engineers' own dredge, named Essayons, which is capable of clearing the bar and entrance channel to a depth of 48 feet.
Heavy rainfall this past winter led to extreme sediment deposits into the bay — about two million cubic yards, or more than twice the annual average, according to Crider. The shoaling has led to dangerous conditions, not just in the harbor entrance but also the city-owned marina.
"This will make it safe for the charter and sport guys and the commercial guys," Crider said.
The Humboldt County Sheriff's Office noted in a press release earlier this month that it will take 25-35 days of work to restore the entrance to 48-feet deep. The harbor is currently under a 25-foot draft restriction, which will be lifted after the Bayport does its work.
And one more piece of good news from Crider: "This year we'll finally get enough money to do the interior channels," he said. Those channels are authorized to be dredged to 38 feet deep, and shoaling has caused impacts on interior channel facilities such as the Schneider Dock.