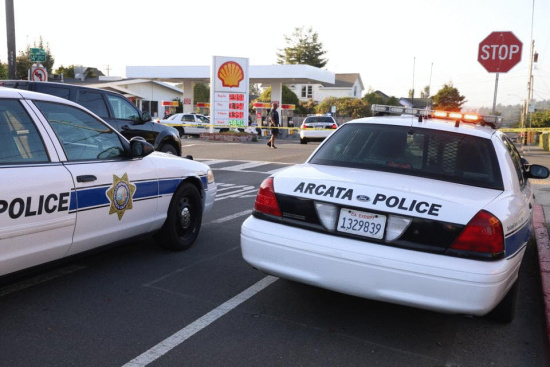 PREVIOUSLY:
###
From the Arcata Police Department:
On May 17, 2016 at 6:43pm, officers from the Arcata Police Department responded to the corner of 14th and G Streets after a citizen reported a man drinking alcohol from an open container and swinging two sticks in an aggressive manner.

Two APD officers arrived at 6:51pm where they encountered the 26-year-old male. Civilian witnesses said the male was swinging a 3' long wooden stick and a metal cane in a martial arts style as he aggressively approached the officers.

At 6:54pm one APD officer deployed a taser that had no affect on the man. Moments later, an APD officer discharged their firearm striking the man.

Once the male was subdued, officers began life saving efforts and immediately called for an ambulance. At approximately 6:58pm an ambulance arrived on scene. The man was transported to a local hospital where he underwent surgery. His condition is stable, but critical.

The Humboldt County Critical Incident Response Team (CIRT) responded to investigate. CIRT is comprised of investigators from the District Attorney's Office, Sheriff's Department, Eureka Police Department and Fortuna Police Department.

Anyone with information about this case is encouraged to contact the Arcata Police Department at 822-2428.

An update will be released in the afternoon of 5/18.