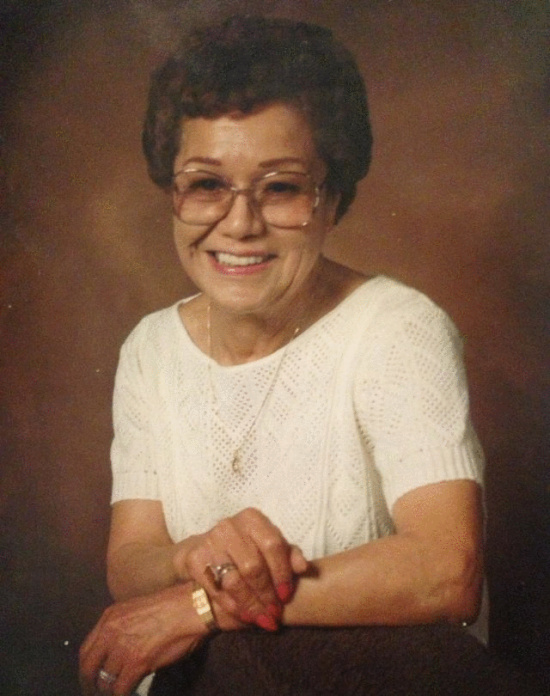 Idell Brock passed away at her home in Hoopa on Sunday, May 1, 2016 at the age of 88.
She was born in Humboldt County, California on Dec. 7, 1927 to Charlie Moon, Jr., and Myrtle Nixon Moon. Idell was a member of the Hoopa Valley Tribe and descendant Redwood Creek.
Idell started working early in life. In high school she held a part-time job as a typist for the old Trinity River Lumber Mill in Hoopa. She worked as a seasonal baker for a sheep camp with her Mom and Dad. She even played the clarinet along with her Father, who often played the violin for local dances.
In her twenties, she worked as a secretary for an insurance company. Idell took secretarial classes where she became proficient at shorthand and typing. She would eventually become a legal secretary. This was her passion. In her thirties, she opened her own 24-hour legal secretarial business. Her legal secretary skills and experience opened doors for employment with various attorney firms in Los Angeles and Summerville, Georgia.
In 1979, Idell returned back to Hoopa and worked to set up the first Hoopa Tribal Attorney Office. Her work was an invaluable contribution in establishing the office. She helped to recruit the Tribe's on-reservation attorneys and organized and made the attorney's office functional. From there she transferred to become the first clerk of the Hoopa Tribal Court, the first tribal court in California. Idell worked tirelessly to organize the tribal court, managed the development and structure of the Tribe's Law and Order Code and created the foundation of what has become one of the most effective and respected Tribal Court systems in the state. Idell's organizational skills helped to get the Hoopa Tribe's laws recognized in all jurisdictions and even led to Hoopa cases being upheld by the United States Supreme Court.
Idell was a very classy lady known for her polished appearance and style. Her hair, clothes and make-up were always picture-perfect. She was a very strong independent woman who had no problem speaking her mind also known for her quick wit, intelligence and sound advice.
She will be greatly missed by all who knew and loved her!
Idell was preceded in death by her parents, Charles Moon, Jr. and Myrtle Moon; brothers Leland, Charles (Joe), Richard Moon; and sister, Delores Mercado.
Idell is survived by her one and only daughter, Vicki, and son-in-law Jesse Burnett. The six grandchildren are: Jesse Burnett Jr. and wife Dolli (children: Cara, Chase, Rebekka, Trilby, James and Brooke); David Burnett (children: Brooke and Kinsa'an); Michael Burnett and son Kaleb Ephraim; Jonathan Burnett, son Micha and daughter, Kinsinto; Deborah Burnett (sons: Brec, Justyn and Joshua); Laci Burnett (sons: Vaden, Zerick,& Lars and daughter Amaris Trinity Grace).
Surviving siblings include Melvin "Buddy" Moon, and wife Carole, Fred Allen Moon, Sr., and wife Carmen, Clyde Moon, Sr., and companion, Donna, sister, Dorothy "Dolly" Lincoln.
A funeral service will be held at the First Baptist Church in Hoopa on Tuesday, May 10, 2016, at 11:00 a.m., with the burial following at the Moon Family Cemetery on Pine Creek Rd. Reception will also follow at the Hoopa Wildland Fire Building, located on Highway 96.
###
The obituary above was submitted by Idell Brock's family. The Lost Coast Outpost runs obituaries of Humboldt County residents at no charge. See guidelines here. Email news@lostcoastoutpost.com.