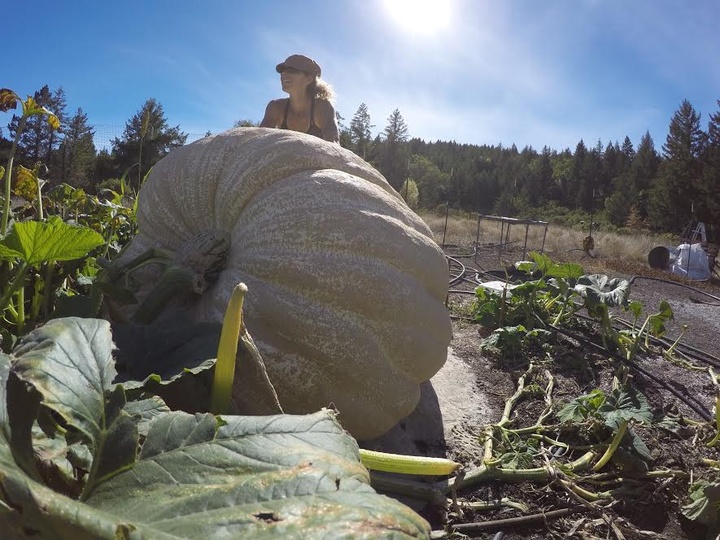 Honeydew man Ian Sigman has produced yet another behemoth pumpkin this Fall, which he plans to enter into the Safeway World Championship Pumpkin Weigh-Off in Half Moon Bay next week.
The Mattole River Organic Farms owner has a history of growing oversized squash, and has placed in the competition numerous times. But Sigman told the Outpost via email that he's disappointed with Humboldt County's interest in big pumpkins.
"This little pumpkin is the best Humboldt can do?" Sigman asked. "Clearly Humboldt has a long way to go. I've been kinda surprised how uninterested the competitive grocery stores, and grow-shop businesses have been with the idea of using a true giant for display."
Sigman placed 11th in the contest last year with a 1,114-pounder, peanuts compared to the world record 2,096-pound pumpkin produced by a Swiss gardner in 2014.
Sigman believes he produced the largest pumpkin in Humboldt County history in 2013, which weighed in at 1,192 pounds. He said this year's pumpkin is pretty close in size, but he wont know how heavy it is until next week's competition.
If you're still wondering why you should spend untold hours of your life growing oversized produce, Sigman listed a few of the perks.
"When it's all over you can have pumpkin soup everyday, or you can use it as a bio-degradable boat. I've also fed it to friends' pigs, transforming them into bacon, and chops," he said. "If you want to try, the Elk Grove Community Services District usually puts on the World's best seed exchange in March. You can get World class genetics there."