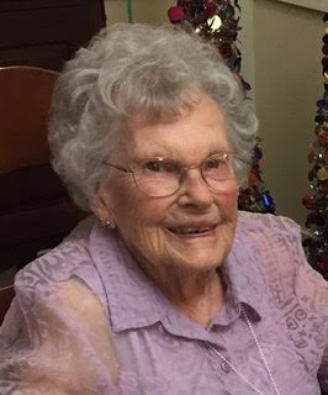 Virginia M. Oliveira was born in Eureka, California on December 15, 1921 and passed away peacefully in Brentwood, California on April 2, 2017 at the age of 95. Virginia was the youngest of three children born to Ada M. and Lawrence H. Zerlang. She lived in Eureka until 2012, when she moved to Brentwood, California to be near her daughter, April Ward and her family. Virginia grew up in Eureka and attended Washington Elementary School, Eureka Junior High School and Eureka Senior High School, graduating in January of 1939. After high school she attended Humboldt State College, where she met her husband of 59 years Manuel R. Oliveira (Bob). She graduated from Humboldt State College in 3 1/2 years with her teaching credential. After college she taught for 33 years in the Eureka Public Schools, teaching first, second and third grades. During those 33 years she taught at Lafayette Elementary, Lincoln Elementary, Marine View Terrace Elementary, and Franklin Elementary. She was teaching at Franklin Elementary when she retired in 1977.
Virginia was an active member of Beta Sigma Phi for over 50 years. She was also a member of Wednesday Club and Birthday Club, whose membership was comprised of other Eureka retired teachers. Every September, Virginia and her retired teacher friends went to lunch on the first day of school to celebrate their retirement. Virginia was also a member of Eureka P.E.O. Chapter LO.
After retiring, Virginia was able to concentrate her time on making quilts, following in the footsteps of her mother who was also a quilter. Both of her daughters, V'Lou and April, are also quilters so she traveled with them to national quilt shows and attended quilt retreats and workshops. All three of them went to the American Quilters Society's annual quilt show in Paducah Kentucky in 2011. Virginia and her fellow Eureka quilters met weekly to gossip and quilt.
Upon moving to Westmont Assisted Living, Virginia became an active member of the community. She was a resident ambassador and participated in their many activities. The residents and staff of Westmont will miss her dear Virginia is survived by her daughters, V'Lou Oliveira of Norman, Oklahoma, April Ward and her husband Rory of Discovery Bay, California, and granddaughters Courtney Ward and husband Ilya Suhkar of San Francisco, California and Haley Ward and her partner Hank Roeth of Bellingham, Washington. Her brothers Frederick and William Zerlang preceded her in death. She will be truly missed by her friends and and family. A memorial service is to be scheduled in Eureka for a later date. In lieu of flowers, the family would appreciate donations to either Juvenile Diabetes Research Foundation, Humboldt County 4H, or the Humboldt State University Foundation.
The family of Virginia Oliveira wish to thank the staff of Westmont of Brentwood Assisted Living and Vitas for their help during her last illness.
# # #
The obituary above was submitted by Virginia's family. The Lost Coast Outpost runs obituaries of Humboldt County residents at no charge. See guidelines here.