---
OBITUARY: Barthel Lee Starritt, 1944-2017
---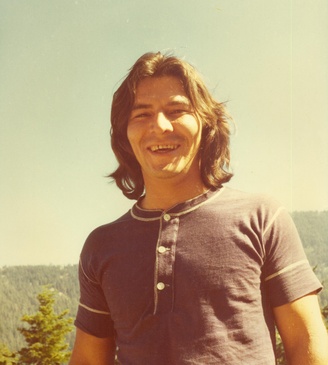 Barthel Lee Starritt, proud Karuk tribal member, passed away peacefully on April 12, 2017. Bart is survived by his children Robert Starritt (Shari Dortch) and Simone Brown Thunder (Joseph Brown Thunder); his brother Victor Starritt and sister Claudette Rogers; his grandchildren, Nadine, Kaylynn, and Robert Starritt, Jr., Emma, Taylor, and Brooke Brown Thunder; his nephews Terrance McCovey Sr., Waymond, Harwood and Leslie Starritt; Nieces Cynthia Henderson, Dixie and Julie Rogers, and Kemberlee Starritt; numerous beloved great-nieces, nephews, and cousins.

Bart was preceded in death by his parents, Robert and Ramona (Tripp) Starritt; his brothers, David, Arthur, and Harwood Starritt; his sisters, Nadine Stevens, Julia Ann McCovey Trejo and Roberta Charlson; and nephews, Stanley, Faron, and Barry McCovey, Sr., Herbert Charlson, Joseph and Julio Henderson, and Mitchell Talbert; his nieces, Stacy and Charisse Rogers, and Bessie McCovey; his grandparents, Robert and Julia (Pearch) Starritt and William "Pop" and Bessie (Jacobs) Tripp.
Barthel Lee was born in the Hoopa hospital, one of nine children, and grew up in Orleans at Cheenich Creek. Summers were spent on the Klamath river bar (under the bridge) and at Oak Bottom. He was named after his uncle Julius Barthel Tripp and his cousin, Lee Hover. Bart was a proud member of the Karuk tribe and loved his culture. He loved to fish and hunt, and would often race his uncle George (Gip) to the fishing hole on the Salmon River. Bart said, "it didn't matter who got there first, Uncle Gip knew the river too well and would catch the biggest fish every time!"
Bart had many adventures with his brothers Vic and Woody, and his close cousins and childhood friends, such as Dale and Sonny Ferris, and John Wolf. His sisters, Nades, JuJu, Dets and Birdy, would dote on him, as he was their baby brother. He took every opportunity to tease them relentlessly, always getting a laugh. He was extremely close with his nieces and nephews, spending much time with them as children, and as adults. They had a special bond. He was their uncle "Barky" that taught them things like how to drive, how to fish, and how to cook.
In his early 20s, Bart went to welding school in San Francisco and had many adventures there, with his wife Linda and family friend Duane. He recalled how all three of them lived together on Haight Street. They would buy $4 tickets to the Fillmore to see the new acts of the time, such as Janis Joplin. Bart had a love of music, and you would hear him often singing songs in that raspy voice of his. When he moved back to Orleans and then to Eureka, he and Linda raised their two children, while Bart worked in construction in and around Humboldt County. He could often be seen with his family and childhood friends in Orleans, taking time to share stories and laugh about old times. He spent much of his time in his recent years with his long-time friend, Al Rodrick. Bart was known for his humor, teasing people to the very end, even in the hospital. Bart was one of a kind. He was deeply loved by his children, family, and friends and will be greatly missed.
Services were held Monday, April 17, with the viewing at 9:00 a.m. and services at 10:00 a.m. Internment followed at Sunset Cemetery. Reception at the Wharfinger Building (1st Street, Eureka). Pallbearers were Waymond Starritt, Harwood Starritt, Leslie Starritt, Tahn and Mawah'che Blake, Jason (Redbone) Marshall, Barry McCovey, Jr., Terence McCovey, Sr., Terence McCovey Jr., Joseph McCovey, Brammel McCovey, Stanley McCovey, Jr., Anthony Rogers, Eldon Sanderson.
Honorary Pallbearers: Ralph Starritt, Wally Starritt, Dave Drake, Brian Tripp, David Tripp, Harold Tripp, Jake Tripp, Bill Tripp, Phillip Quartz, Jason Lang, Julian Lang, Jerome Lang, Perry Dale Sanderson, Ronnie Sanderson, Faron McCovey, Jr., Steven Talbert, Max Moren, Merlin Moren, Duane Ferris, Rick Ingram, Robert Wolfe, Jeff Peters, Frank Lara, Walter Lara., John Burr Rogers, Butch Rogers, Randy Oqua, Ralph Starritt, Charles Morton, Beau Morton, Mark Piehl, Mike McLaughlin, Jr., Ulysses McLaughlin, Jr., Stanley Ferris, Raymond Ferris, Hawk White, Gene White, Willie "Pond Bear" Coleman, Elliott "Chicken Hawk" Greer, Dean Powell, Raymond Mattz, Loren McCovey, Robert Ericson, John Ericson, Jason Evenson, John Lolich, Ranold Beck, Bobby Garrison, George Blake, and Al Rodrick.
###

The obituary above was submitted by Barthel Starritt's family. The Lost Coast Outpost runs obituaries of Humboldt County residents at no charge. See guidelines here.
---
SHARE →
---