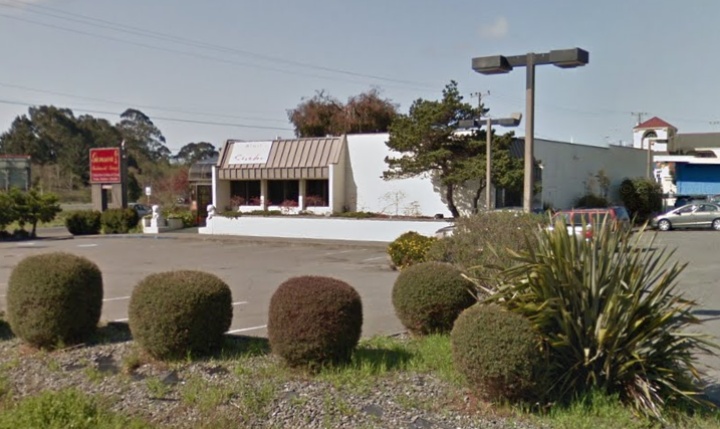 Gonsea, a longstanding Chinese food restaurant at the north end of Eureka, was shut down this afternoon following an inspection by the county's Public Health Division. The inspection report, which is linked below, noted several health code violations, including food stored in unsafe conditions; employees not washing their hands; unclean food-prep surfaces; and a fly infestation.
The restaurant was shut down and its permit suspended due to "numerous recurring major violations," according to the inspection report. Gonsea's owner, listed as Cheng Zheng, now has 15 calendar days to request a hearing to challenge the permit suspension.
Here are a few details from some of the violations listed in the inspection report:
An open bag of chicken was found thawing in a tub on top of a five-gallon bucket of granular detergent with a fly strip hanging overhead.
The inspector noted an "overall lack of food safety knowledge" among employees, as demonstrated by "improper thawing, unsanitary food contact surfaces [and] improper food storage."
Employees weren't washing their hands when they should, "handling raw poultry and then cross-contaminating other food contact surfaces and utensils."
Pork, tofu and sauces were being stored at temperatures well above the required maximum.
Chicken was being thawed in a "visibly soiled" sink, and "visibly soiled" knives were being stored along the wall of a prep table.
The inspector observed "numerous flies" in the sushi bar, a bathroom and a dry storage area.
Several minor violations were also noted, including improperly identified/stored toxic substances, raw meats being stored in a cooler above ready-to-eat food, a bucket of soy sauce stored on the ground, heavy buildup in sinks, drains and cook-line equipment, leaky plumbing and more.
The Outpost attempted to call Gonsea for a response but the line was busy.