John Davidson's YouTube channel.
Olé!
Check out this wholesome group of soccer hooligans having a ball with unsuspecting citizens on the Arcata Plaza.
The above video was uploaded to YouTube earlier this week by Humboldt Soccer Academy coach John "JD" Davidson, and shows Davidson, his son Daniel, and local soccer prodigy Piakai Henkel having some fun with plaza passersby on the 4th of July.
"Me and my son love to do it when we travel," Davidson told the Outpost. "Sometimes it's a way to engage strangers in playing soccer with you, try to nutmeg 'em and see what their reactions are. If they like it chances are they're a soccer player."
The video describes the game as "Plaza Pannas," pannas being a common soccer term for a through-the-legs move to get past an opponent.
Public nutmegs have become a trend in the soccer world during the last few years, with many pros posting their own fun-spirited pannas videos to the internet.
"Very rarely do you get a grumpy person," Davidson said. "I put a couple of grumpy people in the video. If it hits someone in the legs it's kinda annoying, so we take a lot of care. There's rules: If someone has a cup of coffee or beer — no way, old people — no way, if you can tell they're grumpy already — no way."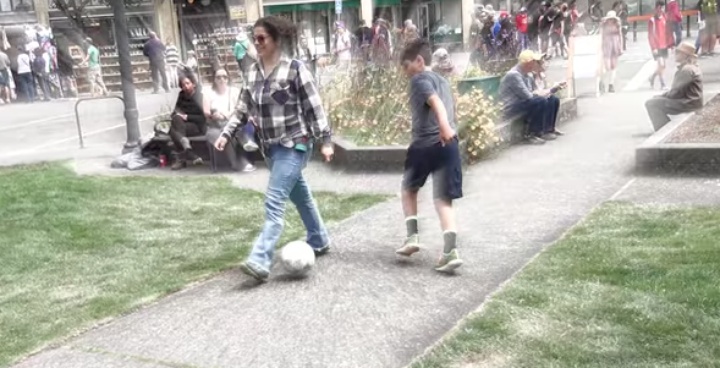 Davidson said he's been recording soccer videos since he was a player at Humboldt State University back in the late '90s. While on a class trip to the Caribbean country of Grenada, Davidson filmed a documentary on VHS about soccer's cultural influences. And now that video technology has improved tenfold since the day of VHS, he's decided to pick the camera back up.
"I'm getting all jazzed about it," Davidson said. "It coincides with my midlife soccer crisis"
Check out Davidson's YouTube page for more fun fútbol videos. And while you're at it, check out this rad trick shot video below.