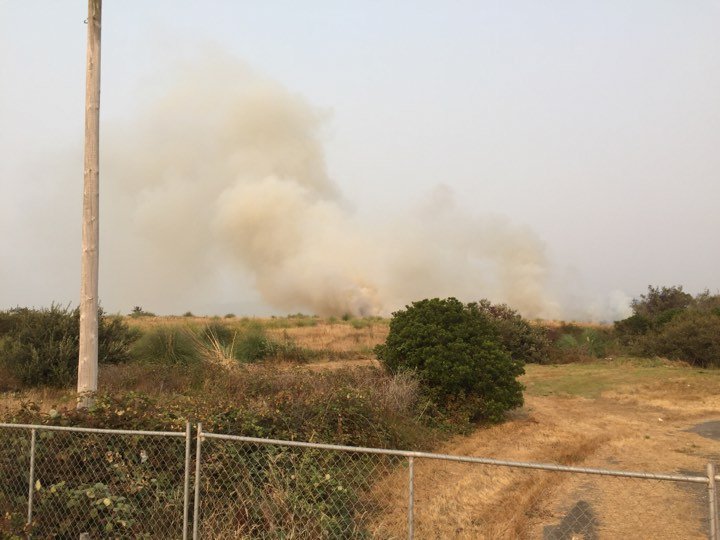 As wildfires continue to incinerate thousands of acres in the Six Rivers and Klamath National Forests, on Sunday evening Humboldt Bay Fire responded to a small brush fire on the Eureka waterfront.
Around 5:30 p.m. the incident commander on scene told the Outpost that the blaze, located at the foot of V Street, was about half-an-acre in size, moving at a moderate pace and did not threaten any structures. He predicted it would grow to about an acre before firefighters got it under control.
Area business owners say the property is a regular camping spot for homeless.
We'll update this post if more information comes in tonight.
Meanwhile, the Orleans complex, which expanded to include 19 separate fires over the weekend, had grown by Sunday afternoon to 7,663 acres. That size despite the fact that 13 of the 19 fires have been completely contained. The remaining six are being fought using a combination of containment and confinement strategies, according to a press release from Six Rivers National Forest.
A total of 729 fire personnel in 19 fire crews were battling the blazes on Sunday, utilizing eight helicopters, 19 dozers and eight water tenders.
The nearby Ruth Complex fires had grown to 4,666 acres by late Sunday, though it was 80 percent contained.
An air quality advisory remains in effect.