UPDATE, 10:06 a.m.: Good news for people who are traveling east on Labor Day — whatever happens with 299, there will be another option.
The Federal Highway Administration job near Dinsmore with up to four-hour delays will wrap up at

noon on Friday, September 1 and they won't start up again until 8 a.m. on Tuesday, September 5, according to the contractor. Regular delay hours here: (

goo.gl/a8kKDL

). Please travel safe!
###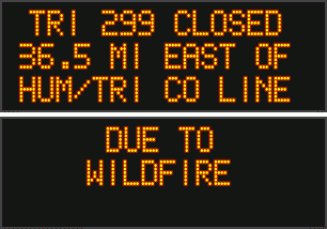 Highway 299 is completely closed just west of Weaverville this morning, after a wildfire sprung up and quickly spread near the Trinity County town of Helena.

The so-called "Helena Fire" is now up to 1,500 acres or more and is burning along both sides of the highway. Several areas around the fire have been evacuated.
There's no estimated time of reopening. If you were planning on going to the Valley today, or coming from it, you should seek alternate routes.
From Inciweb:
On August 30, 2017 at 5:10 p.m. the Helena Fire started near the town of Helena, west of Weaverville, CA along Highway 299. It is burning along highway 299 and is currently burning on both sides of the Trinity River. It is currently approximately 1500 acres with zero percent containment. A Type 1 Incident Management Team has been requested.

The Trinity County Sheriff's Office issued an evacuation order for residents between Helena and Oregon Mountain Summit. This includes the Canyon Creeks area. An evacuation center is being established at the First Baptist Church in Weaverville located at 1261 Main Street across from Suzie's Bakery. Trinity County Sheriff's office will utilize a code red system to notify affected residents of any future evacuation orders.

State Route 299 is closed east of Junction City (near milepost 45) and west of Helena Bridge. Travelers should take alternate routes.