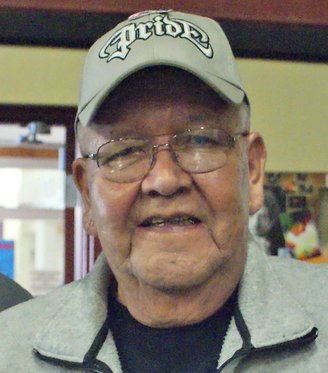 William "Injun Bill" Carpenter Jr., born June 23rd 1933, passed away at his home in Hoopa on Dec. 17, 2017. He was a valued member of the Hoopa Valley Tribe, and a Korean Era Army Veteran. Injun Bill was a celebrated elder, a dear family member and friend to many people. He was known for instituting our native language, and lent his knowledge to the community by leading Native prayers at public ceremonies and events. There are not enough words to express the loss to our community, or how greatly our Injun Bill will be missed.

Injun Bill was a descendant of the Me-dil-din Village. His grandparents were Mary Hill and Big Willis Matilton. Together they raised Henry Kane, Maggie Brown, Minnie Reeves, Louisa Jackson, Gladys Davis, and Bill's mother Delia Matilton. Delia and William Carpenter Sr. spoke and taught their children the Hupa Language, which established Injun Bill's priceless knowledge in tradition and culture.
Bill's athletic career began during his high school years when he played football. He excelled at track, long distance running, and basketball, remembered especially by family as participating in the early All Indian Basketball Tournaments; he was known to participate in boxing, and he was an avid fisherman as well.
Bill was drafted into the US Army in 1953 and stationed in Germany for 18mths. After his return to Hoopa, a lifelong dedication of service to his tribe began. He worked for the Van Fleet lumber mill; Bill was also employed as a Drug and Alcohol Counselor, a CHR; he was a former tribal councilmember, he worked with the tribal museum, was a coordinator for Native American Veterans, a volunteer for Senior Citizens on Patrol (S.C.O.P.), in addition to being a Hupa Language Teacher, a Ceremonial Dancer, a Cultural bearer, a softball coach, and was most recently distinguished as the Sergeant-At-Arms for the Hoopa Valley Tribe.
Bill was preceded in death by his parents Delia and William Carpenter Sr.; his siblings Glenn Carpenter, Calvin Carpenter and Eileen Carpenter; daughter Delilah Carpenter; grandchildren Christopher McGinnis and Crystal Carpenter. Bill is survived by his sister Joan Carpenter; his children Zoe Carpenter, William "Pecos" Carpenter, Tina Carpenter and Deborah Layton; grandchildren Dawnetta Carpenter, Janis McGinnis, Wanda Cranfill, Andrew Calderon, Brian Calderon, and Dallas Layton, in addition to 13 great grandchildren, nieces and nephews, including Floyd Carpenter Sr. and children Lorencita Lavine, Vonice Nelson, and Floyd Carpenter, Jr; Pam Hammond and children Dionisio "Neets" Hurtado and Mystique "Tika" Hurtado; and many others who called him 'Uncle." Bill is also survived by his lady friend, Julie Baldy-McKinnon. Bill has always kept his son, Mark Carpenter, in daily prayer, to be reunited at last.
Pallbearers and Honorary Pallbearers include: Vernon "Sonny" Pratt, Clyde Matilton, Sr., Lincoln "Loggy" Jackson, Harold "Weeps" Campbell, Kenneth Doolittle, Danny Ammon, Gordon Bussell, Joseph Orozco Sr., Harold Marshall, Charles "Chuckie" Carpenter, Bob Campbell Sr., Ben Branham Sr., Thomas Branham Sr., Ben Branham Jr., Jonathan Leach, Joe Carpenter, Billy McCovey, Ralph Brown, Trevor Brown, Travis Brown, Kyle Brown, Harry "O" Campbell, Troy Branham, Shane McCullough, Oscar "Tyke" Billings, Frank Richards, Doug Brown, Oscar "OB" Brown, Raldon "Beatles" Brown, Freddie Brown, Sylvester "Flabbs" Brown, Bautisto "Cheetos" Pacheco, Delbert O'Neill, William Frank Jr., Marion "Inker" McCovey, and Tribal Chairman Ryan Jackson.
Funeral services will be held at 11 a.m. on Friday, December 22, 2017, at the Neighborhood Facilities. Interment will be held at the tribal cemetery, with a reception to immediately follow at the Hoopa Fire Hall. All are welcomed to pay their respects.
###
The obituary above was submitted on behalf of Bill Carpenter's family. The Lost Coast Outpost runs obituaries of Humboldt County residents at no charge. See guidelines here.