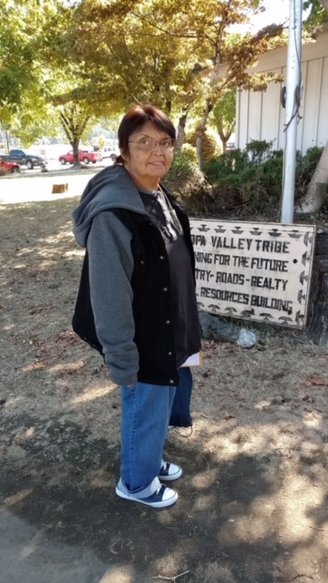 Beloved mother, wife, aunt and grandmother Phyllis Arlene McCovey Robbins passed peacefully, surrounded by family, on December 1, 2017. She was born on January 22, 1957 to Howard "Edgie" McCovey and Janice Marshall McCovey.

Phyllis was of Hupa and Yurok decent and resided on the Hoopa Valley Reservation her entire life. She was a tribal employee in several departments from the time she graduated from Heald Business College in Sacramento up until her passing, when she was employed at Hoopa Valley Forestry. She was also a talented traditional regalia maker. It is rare to attend any of the traditional dances from Klamath to Hoopa that do not have a piece of her work participating.
She was an avid sports fan who enjoyed watching her grandchildren's sporting events. She especially loved basketball, and was a girls' basketball and softball coach for many years. During her time coaching she was able to positively affect the lives of many youth. She was incredibly kind, with a huge heart. She was known to most as Aunt Bunny, and her door was always open to anyone needing a place for respite. Phyllis was a giving soul who will be missed and remembered by many.
She is survived by her husband, the love of her life, Ronnie Robbins. Her grandfather, Henry Beck Sr. Mother-in-law Valerie Harvey. Sisters Floriene and Juliene McCovey. Brother-in-laws Mike McCurdy, Rodney & John E. Robbins Jr., and Fillmore Harvey. Sister-in-laws Philomena White, Melanie Harvey and Verla Robbins. Daughters Michelle McCovey-Good, Janice Nixon and Kimberly Davis. Step-daughters Alice Mabry, Brandice and Lillian Davis. Son in-laws George Nixon, III and Troy Good. Grandchildren Dylan and Gavin Good; Laynee, Georgie, Nicholas, Leland and Gage Nixon; Cheryllyn and Phillip Pike, Clayton McCovey, Arielle & Jillian Mabry. Great Grandson Eliott Gurule. Nieces and nephews Jana and Jacob McCovey, Erica Salee, Tonya Lindsey and Mikey McCurdy; Levi and Kaweah Littlefeather Rivas, Shirley Yanez, Maxine White, Aurora Harvey, Sunshine Jackson and Freedom Smith. Numerous Aunts, Uncles and Cousins and her best friend in the world, Mary "Dukes" Nelson.
She is proceeded in death by her parents as well as her grandmother Gwendolyn Ruth Brown Beck, brother Howard McCovey, sisters Cheryl Lynn McCovey & Ruthie McCurdy, niece Charlene O'Rourke, nephew Bishop Littlefeather Rivas, and numerous dear aunts and uncles.
A wake will be held at the family home the night of Friday, December 8, 2017. Funeral services to be held on Saturday, December 9, 2017 at 12pm at the Hoopa High School Gymnasium. Internment to take place at Jackson Family Cemetery on Pine Creek Road immediately following the services with a reception to follow.
Pallbearers:
George Nixon, IV, Dylan Good, Nicholas Nixon, Levi Rivas, Alex Bristol, Phillip Pike, Bautisto "Cheetos" Pacheco, and Eric Amos.
Honorary Pallbearers:
Fred Marshall, Fred Moon, George Nixon, III, Troy Good, Jacob McCovey, Joe Surber, Tony Gillespie, Dean Powell, Earl "Beer Can" Jackson, Sr., Nolan, Alfonso & Billy Colegrove, Chance Carpenter, Oscar, Doug, Sylvester, Freddie, and Beatles Brown, Lance Marshall, Ernie Marshall, Allen & James McCovey, Ricky & Kenny Roubideux, Loren "Long Gone" & Robert "Chucker" McCovey, Gordon, Charlie, Mikey and Marion "Inker" McCovey, Ron & Butch Reed, Richard Moon, Terry McCovey, Greg Trimble, and Dick & Tyke Robbins.
###
The obituary above was submitted by Phyllis McCovey Robbins' family. The Lost Coast Outpost runs obituaries of Humboldt County residents at no charge. See guidelines here.