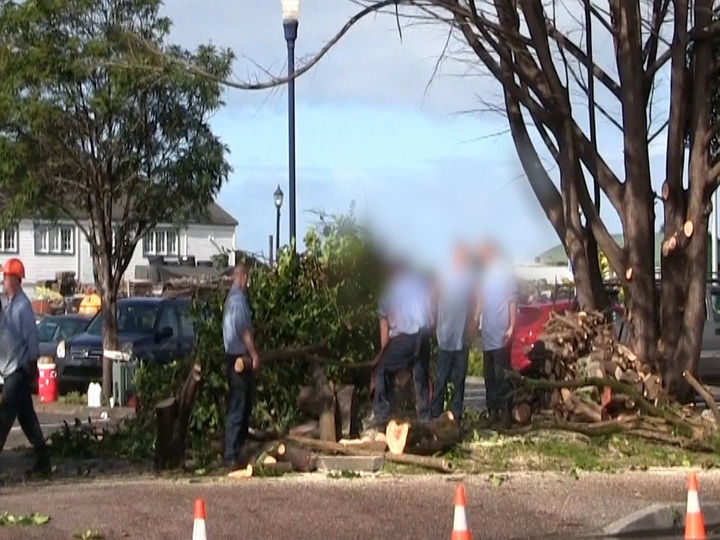 The sound of chainsaws could be heard for several blocks in Old Town Tuesday, drawing passersby to the parking lot behind the historic Eagle House Victorian Inn and leaving them in a state of confusion and concern.
The Sheriff's SWAP team began cutting the limbs of landscaping trees located on C Street between First and Second Streets in the morning. By noon one tree was nothing more than a pile of logs, and by 2 p.m. only three stumps remained. They weren't the oldest, most massive trees ever seen, but they were good-sized and healthy.
When inquiring why the trees were being cut down, a sheriff's deputy replied "City's orders!" And that was all he knew.
The Outpost called the city and eventually got hold of Miles Slattery, Eureka's Director of Parks & Recreation. He informed us that the Eagle House has new owners, and escrow is expected to close next week.
According to Slattery, the new owners are making a "significant investment" to upgrade the late 19th century inn, and were concerned with mold growing on the exterior part of the building, which was being shaded by the trees, which needed to be removed to accommodate the upcoming improvements.
Slattery said city management gave the go-ahead to have the trees cut down since they've been problematic in the past. He says the city has always been concerned with the trees' close proximity to an electrical box, and that in the past the roots have even lifted up asphalt in the parking lot concrete and had to be cut.
"We don't just go around cutting down trees," Slattery added. The city wished to reassure all tree-lovers that this was for the best. Plus, the logs are headed to Fort Humboldt State Park to power its steam train.
RIP, three Old Town trees.