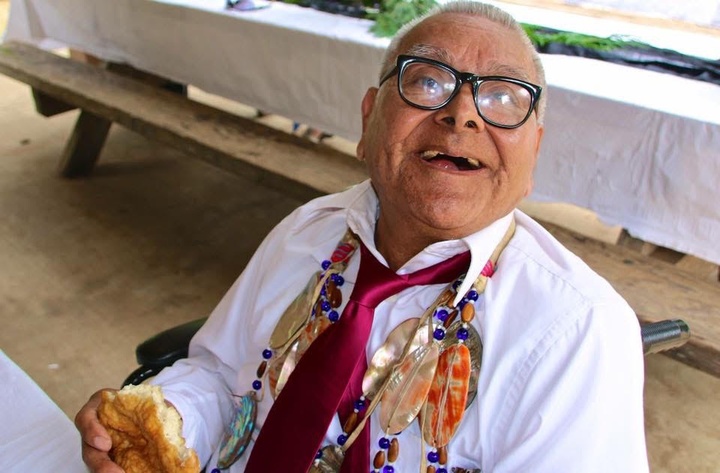 -Arnold Lee Moore-

Arnold Lee Moore was born on June 10,1948. He entered into eternal life on January 14, 2017. He was a proud member of the Yurok Tribe. He enjoyed traditional foods, such as smoked salmon, eels, sturgeon and especially fry bread. He touched numerous lives with his optimism and infectious smile. Even though Arnold lived with Cerebral Palsy, never once did you hear him complain. Bowling was one of his life's passions and he would not hesitate to show off his score card. He participated weekly at HCAR, (Humboldt Community Access Resource) looking forward to cooking classes, swimming and all other community events. Arnold participated in the Special Olympics, from which he had a large collection of medals and trophies. Earlier in life Arnold took pride in delivering Tri City papers and enjoyed his paychecks. Arnold might be remembered for riding his 3 wheeled bicycle around Hoopa collecting cans, another one of his passions. Arnold Lee Moore will forever be remembered as a special, kind and loving soul.
Arnold was preceded in death by his parents Awok Haynes and Awok Violet Moore, Baby Brother Awok Bennett Moore, and sister Awok Carol DeLaRosa.
He is survived by his sisters, Barbara Orcutt, Betty Jackson, Vivian and Burt Snyder, and Joanne Moore. Nephews and their spouses, Jeff and Yvonne Guido, Jonny DeLaRosa, Carl Snyder, Pliny "Jack" Jackson III, Patrick Jackson, Edward and Jeanie "Pooh" Moore. Nieces and their spouses, Joice Moore, Annette Moore, Annie and Legion Krupp, Vickie and Verl Moon, Janice and John Greene, Lynn Abarr and Bonnie Jackson. Great Nephews and their spouses, Nicholas Davis, Hayden and Koda Krupp, Johnathan DelaRosa, Neil and Jordy Harris, Verl Moon Jr., Elisha Moon, Robert Hunsucker Jr., Burt Snyder, Summer Fox Jackson, Michael Jackson, Jax Jackson, Paul Daniel Abarr, and Bill Abarr. Great Nieces and their spouses, Isabella "Bella" Violet Davis, Tara Harris, Verissa Moon, Ashley DeLaRosa, Karley and Brian Crawford, Linnea Jackson, Kikta Curry, Tashina Jackson, Penny and Dan Nordstrom, Naomi and John Nelson, Jennifer and Anthony Piatti, Laurel Hunsucker & Shekky Bowen, Betsy and Bill Denny, Bonnie Abarr, Amber and David Brooks, Trinity Newsom & Patrick Holt. And numerous more generations and extended family, far to many to list. (We apologize if we left anyone out, it was not intentional.) Our family would also like to thank the caregivers Bill Kelso and Marianne Williams.
Paul Bearers: Jeff Guido, Jonny DeLaRosa, Carl Snyder, Patrick Jackson, Robert Hunsucker Jr., Paul Abarr, Bill Abarr, Legion Krupp, Dan Nordstrom, Allen Nordstrom, Curtis Cane
Honorary Paul Bearers: Edward Moore, Melvin Stokes, Pliny "Jack" Jackson III, Bert Snyder, John Greene, Glenn Moore II, Mike Stapp, Robert Hunsucker Sr., Richard Myers Sr., Shelly Bowen, Curtis Dempenwolf.
Viewing will be held in Arcata at Paul's Chapel on Wednesday, January 18th from 5-7, Service are to be on Thursday, January 19th at Wauteck Church at noon, burial will follow at Pecwan cemetery, immediately after reception to be held at Morek Won.
# # #
The obituary above was submitted by Arnold' family. The Lost Coast Outpost runs obituaries of Humboldt County residentsat no charge. See guidelines here. Email news@lostcoastoutpost.com.