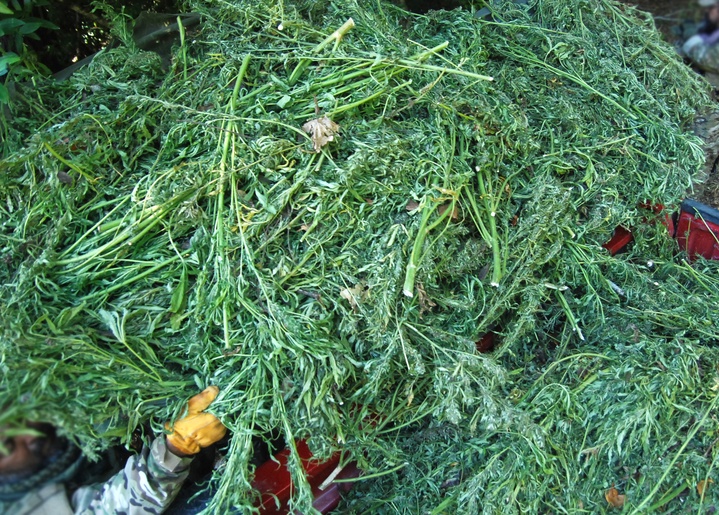 ###
From the Yurok Tribe:

This morning, a team of law enforcement and natural resource protection officers, working in partnership with the Yurok Tribe, started serving search warrants at environmentally destructive cannabis cultivation sites on the Yurok Reservation.

This cooperative marijuana eradication effort is part of Operation Yurok, an annual action that aims to eliminate illegal pot farms from on and near the reservation. These unlawful plantations are responsible for damaging critical fish and wildlife habitat, diverting cold water from fish-bearing creeks and disturbing ceremonial areas. The black market cannabis industry has also put in jeopardy the safety of the local residents on the reservation, particularly those who venture into the high country to pray, as well as harvest traditional foods, basket-making materials and plant-based medicines.

"Protecting the health and welfare of the Yurok people is our primary priority," said Thomas P. O'Rourke Sr. "I would like to personally thank each and every law enforcement officer for helping us to protect our land, water and way of life."


Operation Yurok, now in its fourth year, has removed from the Tribe's territory more than 100,000 plants, multiple hash labs and all manner of unlicensed firearms, not to mention hundreds of pounds of processed marijuana buds. The street value of the yield that would have potentially been produced by the plants alone is approximately $200 million. The cultivation of cannabis is illegal on the Reservation, where there is a Zero Tolerance Policy toward all drugs, including medical marijuana. The Yurok Tribe also has a broad set of statutes that prohibit unpermitted ground disturbing activities, including grading, timber harvest and other undertakings that have the potential to irreparably harm cultural sites.

During the six-month marijuana growing season, Tribal hunters and gatherers refrain from visiting their traditional harvesting grounds because of the very real potential for a conflict with armed growers. Ceremonial practitioners, who go to the high country to pray, have similar concerns.

The Yurok Tribe recently solicited a bid to clean up a trespass grow site. The cost came in at more than $100,000 for the removal of the agricultural infrastructure and trash. It is more costly to re-contour graded areas, replant clear cuts and other restoration activities.
For the first time last year, the Operation Yurok team observed a small, yet noticeable, decrease in the number of grow sites on the reservation. A handful of properties previously used to cultivate marijuana were abandoned. The Yurok Tribal Council is committed to facilitating future eradication operations until the numerous threats to the community are no longer present.

"Going into the first Operation Yurok we knew that it would take several years before we would see a difference. Even if it takes another five years, we are going to eradicate this threat to our fish, our river and our lifeway. We were here long before the Green Rush and we will continue to be here long after it's gone," concluded Chairman O'Rourke.

Operation Yurok is comprised of the following law enforcement agencies: Yurok Public Safety Department, Bureau of Indian Affairs Law Enforcement Division and the California National Guard Counterdrug Taskforce.