---
CHP Names Fortuna Residents Killed on Highway 101 This Morning
---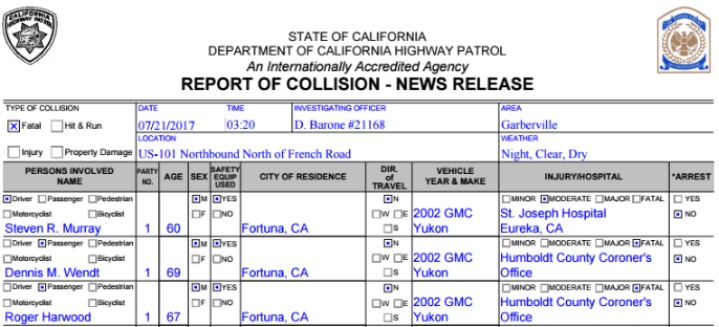 The California Highway Patrol quickly followed up this morning's press release to include the names of the deceased: They are Dennis Wendt, age 69, and Roger Harwood, age 67, both of Fortuna. Complete release below:
On July 21, 2017, at approximately 0320 hours, a 2002 GMC Yukon, driven by Steven Murray of Fortuna, CA, was traveling northbound on US-101 just north of French Road. For reasons still under investigation, Murray allowed the GMC to run off the east road edge and collide with a light pole and redwood tree. The collision with the redwood tree caused the GMC to overturn as it traveled down an embankment adjacent to US-101. The GMC eventually came to rest on its left side within the lanes of Maple Hills Road. As a result of the collision, Wendt and Harwood sustained fatal injuries and were pronounced deceased at the scene. Murray was transported to St. Joseph Hospital in Eureka, CA with moderate injuries and at this time is in stable condition.

Maple Hills Road was closed for scene investigation.

The California Highway Patrol, Humboldt County Sheriff's Department, Phillipsville Volunteer Fire Department, Miranda Volunteer Fire Department, Cal Fire, City Ambulance of Eureka, and Cal Trans all responded to the scene. This collision remains under investigation by the Garberville CHP.
---
SHARE →
---
---