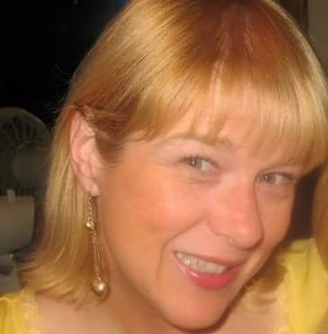 Susan Clarice Anderson-Baxter passed away at the age of 56 in Madera, Calif. on May 24, 2017

Susan was born in Fortuna on September 12, 1960. She graduated from Fortuna High School in 1978. She moved to Eureka after she graduated and held various positions at the Fortuna Courthouse, Sears, Winzler & Kelly, Harper Motors, Cook and Cerny CPA, and 4th Street Connection. After the birth of her daughter, Savannah, she went back to school and graduated from College of the Redwoods in 1991 with an Associate of Arts degree. She went on to Humboldt State University to pursue her Bachelor of Arts in Liberal Studies: Elementary Education as well as her teaching credential for multiple subjects. She graduated from HSU in 1994.
Always having the desire to get out of Humboldt County, Susan left Eureka in 1995 for San Diego. She met her longtime boyfriend/husband, Alan, in San Diego and held various long term substitution assignments all around San Diego County. She moved to Fresno a year later, where she had her first classroom as a teacher. Susan was very passionate about teaching, and hoped to make a difference in the lives of her students. She wrote in her student teaching application that "the most important contribution I'd like to make is to teach children to be self-confident and to have a positive self-image". In addition, she loved to read and learn new things, and hoped to pass along that eagerness to her students.
In 1998, Susan moved to the Bay Area and began teaching at Ochoa Middle School in Hayward. She worked there until 2002, teaching 7th and 8th grade Language Arts, History and Reading classes. She made many lifelong friends at Ochoa and is remembered by her colleagues as someone who was fun to work with, who was very helpful to the school community, and a person you could always count on to lift your spirits and share a laugh with. She affected many students over the years, and kept in touch with them over social media. Unfortunately, she had a work-related injury in the fall of 2002, and she was no longer able to teach. This was devastating to her after working so hard to get her teaching credential and finding a good school to work at. She moved to Madera shortly after her injury and she spent her retirement relaxing by her pool, chatting with friends on the internet, and finding new TV shows to binge watch.
Besides her life as a teacher, Susan was also a proud mother. Her daughter was her pride and joy, and she tried her best to ensure Savannah had a good life. It was important to her to raise Savannah in a way that was different than her own upbringing. For instance, since Susan never learned to swim, she put Savannah in swim lessons at a very young age so Savannah wouldn't have a fear of the water. Susan loved to share stories about Savannah, much to her daughter's annoyance, but it was clearly out of love.
Susan was preceded in death by her parents, Bess McCartney and Fred Anderson; her brother, Tim Anderson; and her husband, Alan Baxter.
Susan is survived by her daughter, Savannah Anderson; brothers Olin (Kathleen) Anderson and Fred (Lorrie) Anderson; and other extended family members.
A memorial service for Susan will be held on Friday, July 28 at 2 p.m., in the Chapel at Ocean View Cemetery in Eureka. Please wear bright colors in honor of Susan, and think of any fond memories you may have of Susan to share with her loved ones.
In lieu of flowers, please make a donation to the following Go Fund Me Page: www.gofundme.com/susan-anderson
###
The obituary above was submitted by Susan Anderson-Baxter's family. The Lost Coast Outpost runs obituaries of Humboldt County residents at no charge. See guidelines here.