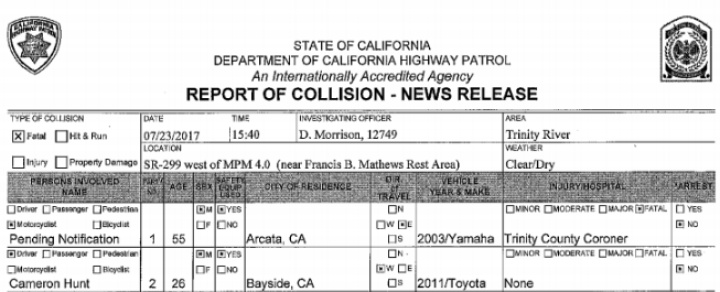 California Highway Patrol press release:

On July 23, 2017, at approximately 3:40 p.m., Party #1 (the decedent) was traveling eastbound on SR-299 near the Francis B. Mathews rest area, between Salyer and Hawkins Bar. For an unknown reason Party #1 allowed his motorcycle to travel into the westbound lane directly into the path of Party #2, who was traveling westbound. The motorcycle collided nearly head on with the SUV. As a result of the collision the motorcycle left the roadway and Party #1 was ejected. Party #1 sustained fatal injuries and was determined to be deceased by Fire/Rescue personnel at the scene. It is currently unknown if drugs or alcohol were a factor.

Personnel from the California Highway Patrol, the Trinity County Sheriff's Office, the Salyer Volunteer Fire Department, and the Hawkins Bar Volunteer Fire Department responded to the scene.

The identity of the Party #1 is being withheld pending notification of the next of kin.

This investigation is ongoing.