Roger Guy "Ramjet" Harwood was born November 17, 1949 in Crescent City, CA and died in a car accident on July 21, 2017.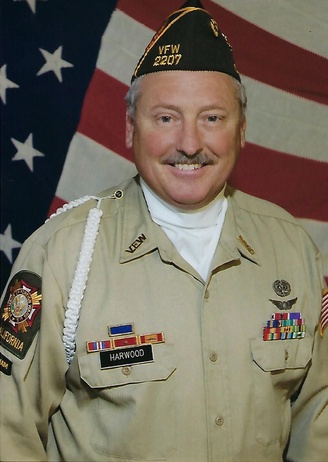 Roger graduated from Del Norte High School in 1967 and chose to serve his country in the U.S. Army. He served two tours in Vietnam as a helicopter medic where "Roger Ramjet" became his call sign. He received a Purple Heart when he was struck by shrapnel while in the process of rescuing others. Roger was very patriotic, proud of his service, and expected people to stand when the National Anthem was performed. He had choice words for those who did not show the proper respect to our flag. He was an active member of VFW Post #2207 serving as the District Commander in 2016, life time member of AMVETS Post 96, Disabled American Veterans, and Vietnam Veterans of America.
Roger was an avid outdoorsman with a love for hunting and fishing. He will be missed by his fishing, hunting, and golfing partners Brandon, Derek, Mike, and Ron. He shared elk, venison, and fish with whoever would take it. He loved sports whether it was playing softball, golf or something else. If he wasn't participating he was attending sporting events, which included cheering on his daughter Morgan (loudly shouting "Let's go, Gubr") at every game. He volunteered his time to officiate, prepare the softball and baseball fields, keep the score book or run the clock at basketball games. He was generous and selfless, willing to help his family and friends on a moment's notice. He was our "driver." If you needed a ride anywhere, anytime, Roger was the man for the job. His smile and laugh were contagious. He loved a good joke, but wasn't always aware of when and where it was appropriate to tell them. He just blurted out whatever he was thinking wherever he was.
Roger was employed at Eel River Sawmills until an injury prevented him from returning to his job. He chose to return to school and become an LVN. While he worked at the Blood Bank, he was the one person often requested because he was so skilled at hitting the right vein on the first try. He retired from the VA Clinic in Eureka and went on to continue his volunteer work in the community.
Roger was proceeded in death by his parents and his brother, Clyde. He is survived by his wife, Janet, his daughters Annette (Joe), April (Kendall) and Morgan who he lovingly referred to as Gubr; his grandchildren Aurora, Kevin, Rachel, Savannah, and Zack and his great granddaughter, Ophelia; his brothers Harry, Jeff and Andy. He will also be missed by his extended family Connie, Greg, Barb, Brian, Carol, Traci, JJ, Lily, Sage, Harvey, Patti, Damon, Pitty, Tsunami, Meadowlark, and Aunt Rose as well as others too numerous to list.
Many know of our "group" family that may not be blood related, but are closer than most real families. Over the past 30 years memories have been made that will help everyone through this difficult time. Connie, Sharon, Sue (who he jokingly referred to as his "first wife" even to strangers), Sam, Brandon and his family, Derek, Jayme and her family, Ron, Crystal, Reid, Lauren, Lexie, Alan, Shelly, Travis, Tanner, Audra, Pyper (who is like a sister to Morgan and another daughter to Roger), and Dennis Wendt.
All those who loved Roger would like to express their sincere appreciation for the prayers, hugs, phone calls, texts, Facebook posts, food, flowers, and cards that have been received.
A celebration of life with full military honors is being held on July 28, 2017 at 5:00 pm at the Fortuna Veteran's Memorial Building located at 1426 Main Street, Fortuna. In lieu of flowers, donations may be made to Fortuna VFW Post #2207, P.O. Box 180, Fortuna, CA 95540.
Until we meet again, Roger, leave some of those fish in the lakes of heaven for the rest of us!
# # #
The obituary above was submitted by Roger's loved ones. The Lost Coast Outpost runs obituaries of Humboldt County residents at no charge. See guidelines here.