UPDATE: …aaand scene.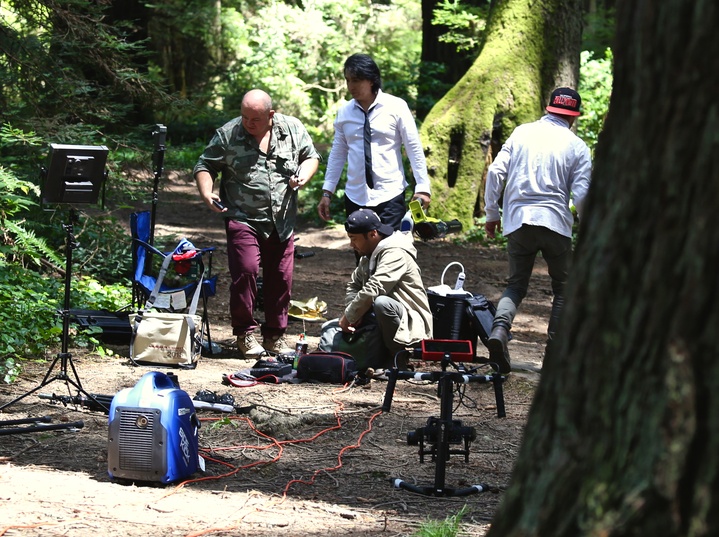 If you thought you heard someone singing in Persian while you were strolling through Eureka's Sequoia Park this morning, first off, we are very impressed that you recognize Persian when it floats past your ears and, secondly, yes you did hear that. For 'twas this day that a small film crew from Uzbekistan, headed by director Bakhodir Yuldashev, nestled themselves in a grove of our majestic redwoods to shoot scenes for Samarkand-based singer Rui Zamin's very first professional music video.
Who says Eureka ain't cultured?
LoCO stumbled onto the set just as the team was packing up their gear into a rented motorhome to head out to their next destination — "Devil's Gate Beach," we were told — but Yuldashev and crew were kind enough to chat for a moment and pose for a picture to commemorate the occasion.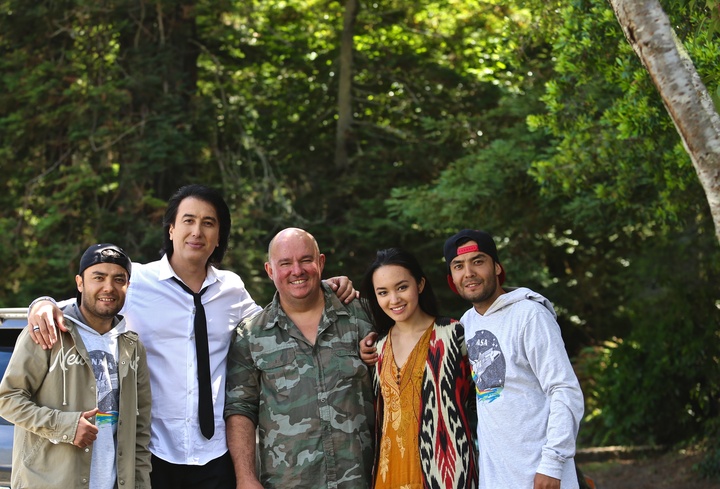 For those of you who are familiar with Uzbek cinema — again, impressive — perhaps the name Bakhodir Yuldashev is known to you. The rest of us, of course, are left to peruse about online where we learn that the half-Uzbek, half-Ukrainian filmmaker has a few full-length films to his credit, including the recent award-winning documentary Ulugh Beg: The Man Who Unlocked the Universe — yes, about that 15th century Persian astronomer — featuring American actor Armand Assante (we'll include the trailer for that below, for kicks).

"I am big director!" Yuldashev told us with a smile. His website also features a few music videos he's shot and directed.
Yuldashev admits to having somewhat of a California addiction. The director estimates that this is the fifth time he's traveled to the U.S. west coast for film projects, citing its beauty as its main draw. For this video, he'll also be shooting in the Mojave Desert and Los Angeles.
"This is paradise," Yuldashev repeated a few times. "I like this place, but… very far."
Whenever Yuldashev completes and releases Zamin's debut music video we will, of course, feature it here on the Outpost. In the meantime, if you'd like some idea of the director's style take gander at his reel below.