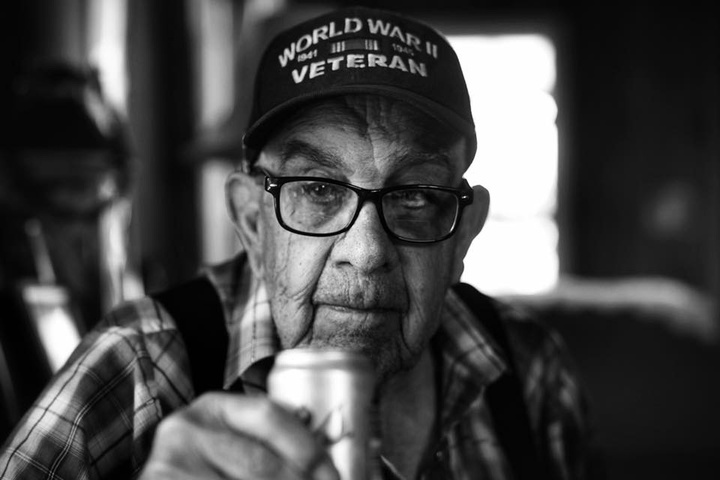 Joe Marks Santos passed away peacefully, after a short illness, in Redding on July 12, 2017.

Joe was born September 18, 1919 in Riverdale, California. As a young man he started driving truck for Lucerne Dairy Company in Hanford, California. He was most proud of his service to our country in the Navy during WWII, where he was stationed in Guam from 1943-1945. As a CB he taught other to drive truck. Joe was a lifetime member of the VFW, active in the Blue Lake, Willow Creek and Fortuna Posts. It always touched his heart when someone young or old would come up to him and thank him for his service.
In 1952 he moved to McKinleyville with his future wife's family to work in the mills. He later went to work at Humboldt State college as member of the ground maintenance crew until he retired in 1981.
Joe and Anna then moved to Hawkins Bar, where in 1984 they helped establish the Hawkins Bar Volunteer Fire Department. Joe drove the firetruck and first responder truck until 2001 when he retired from the fire department and moved to Fortuna. They moved back to Arcata in 2014 to be closer to their daughter.
Joe enjoyed life to the end. He spent the last three weeks traveling and visiting with family and friends. Joe made it to yet another family reunion, and even got a chance to meet his great-great-granddaughter.
Joe was preceded in death by Anna, his wife of 63 years, in 2015, his daughter Paula George in 2015 and his grandson Allen Freitas in 1987. He is survived by his children, Nancy Santos Clay (James), Frankie Freitas (Joe) and Micheal Passmore; nine grandchildren; 18 great-grandchildren; and one great-great-granddaughter.
There will be a service later in the fall. In lieu of flowers donations may be made to the Veterans of Foreign Wars 1426 Main St., Fortuna, CA. 95540.
###
The obituary above was submitted by Joe Santos's family. The Lost Coast Outpost runs obituaries of Humboldt County residents at no charge. See guidelines here.