UPDATE: HUMBOLDT BAY FIRE: This Morning's Fire Destroyed or Damaged Six Businesses; Monetary Losses May Exceed $1 Million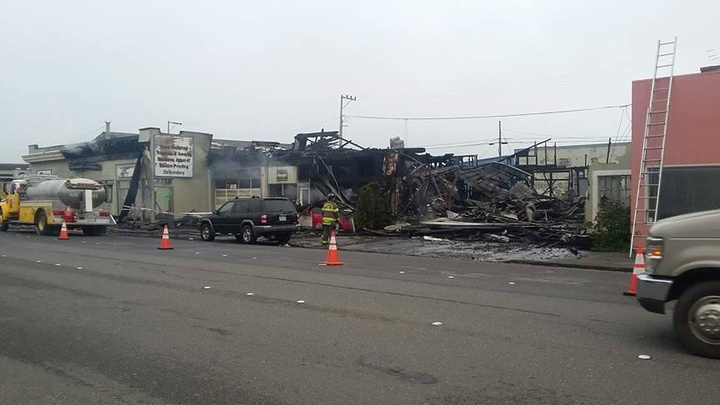 Humboldt Bay Fire responded to a multi-alarm blaze this morning at the intersection of Fourth and A streets in Eureka. Firefighters spent several hours battling the fire, which eventually burned much of a building occupied by Lost Coast Flooring, Knapek's Auto Electric and others.
Humboldt Bay Fire Chief Bill Gillespie told the Outpost that no one was injured in the blaze. What remains of the building will have to be demolished, he said. The owner of Sports World, which had been located in the building, told the Outpost that he had just moved over the weekend, so his inventory was saved.
There's no word yet on the cause of the fire. At the time of this posting, firefighters were still knocking down hotspots and one lane of Fourth Street was closed off. We'll update as more information comes in.
ADDENDUM: The owners of Dick Taylor Chocolates posted the following video to Facebook this morning: