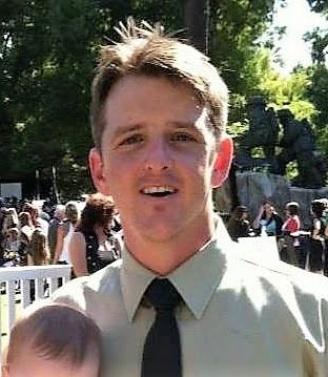 Joel Louis (Joey) Maggio died on Friday, June 2, 2017 from an accident while working in Willow Creek California. He was 35 years old. Joey was born October 22, 1981 at Mad River Hospital, in Arcata, to his parents, Michael Handly Maggio and Melinda Lovitt Maggio. He was welcomed with great joy by his parents and two older brothers, Mario R. Maggio, and Jason M. Maggio. With his birth, their family was complete.

Joey grew up in the redwoods in Westhaven and then on the glorious wilderness of Dr. Scott and Esther Holmes' family farm on the South Fork of the Trinity River. He loved making forts, playing with his brother, swimming in the river, helping his Dad, riding in the tractor, and spending time with his mom: reading and playing make believe and learning about animals.
He attended Trinity Valley Elementary School where he was blessed by excellent teachers particularly Jeanne Grosser and Betty Eichelberger. He became an avid wrestler under the encouragement of his father, a Rhode Island State Champion in his time, and joined the Klamath-Trinity Free-Style Wrestling Club at age 4. He continued to wrestle through high school, and earned many awards and championships. He was known for his tenacity, skill and sheer grit in training and self-discipline. Life-long friendships were made through this sport, and he still kept in contact with mentor Jim Fattig and others up until his death.
Joey attended Hoopa High School and Arcata High School. He was active on both campuses and retained strong friendships with those he knew from those days throughout his life. He earned the Golden State History Award his junior year, and was an excellent writer and student of history. He was particularly empathetic to students with special needs and made sure they were included in social events. However, Joey did not see that as a big deal, but rather something "anyone would do."
Joey joined the U.S. Army in the spring of 2000, and served in Illesheim, Germany for 2 years. He served with distinction, and then transferred to Fort Hood, Texas, to the 4th Infantry Division. After 9/11, the 4th Infantry was the second division to invade Iraq, where Joey served until he was discharged in 2005.
After a brief stay in Arcata attending college with close friends, Joey took up a career as a wildland fire fighter with the United States Forest Service. He served on fire crews in Denny and Salyer, and as a member of the Zig Zag Hot Shots in Oregon. In 2009, he joined the elite California Smokejumpers based out of Redding, CA. He was proud to be "RDD 09", working alongside the toughest men in wildland fire, and was named Rookie of the Year. During his 7 years as a smokejumper, Joey had 129 total jumps, including 57 fire jumps, and fought wildfires all over the western U.S., including California, Alaska, New Mexico, Idaho, and Montana. He was a qualified FAA Senior Rigger, responsible for packing parachutes for his fellow jumpers. He enjoyed giving lively tours of the smokejumper base, especially for children, and sharing the rich history of the organization.
Yet the best part of his life began in 2012 when the focus of being a Smokejumper was coming home to the true love of his life: his wife, Renee, and their daughters, Sienna Rebecca, and Olivia Maria, born just 14 months apart. Joey always said the greatest days of his life, without exception, were the days his daughters were born and he witnessed his beautiful wife give him these amazing miracles. He simply adored being a Daddy and family man. He loved family dinners and asking everyone around the table, "What was YOUR Favorite Part of the Day?"
In late 2016, Joey and Renee started their own business, Maggio Tree Service. He got his state contractor's license and his business quickly grew. They were very excited as they started off on this new adventure as a family.
Joey was known for his deep friendships throughout his life, and his parents, brothers, wife and daughters have been comforted in the past week by a great outpouring of love, memories, and assistance.
Joey is survived by his wife Renee (Tomer) Maggio of Redding, CA, his daughters Sienna and Olivia; his parents Melinda Lovitt Maggio and Michael Maggio, of Arcata; his brothers Jason Michael Maggio, Mario Rosario Maggio; sister-in-law Vanessa Maggio; in-laws Linda and Alex Savedra and Randy Tomer and Suki Morrison; uncles Tim Lovitt, Keith Maggio, Larry Jones, aunts Lili Lovitt, Diane Maggio, Melissa Jones, Pam Maggio, Kathy Maggio; nieces Mykah, Zoe, Berlin, and Adalyn Maggio, nephew Luca Maggio, cousins Jaimal Lovitt, Lasca Lovitt, and Atticus Lovitt, and extended family Melodie Johnson, Valorie Johnson, Natalie Johnson, and Greg Johnson, and other family too numerous to mention.
He was predeceased by grandparents Billy Jack Lovitt, Phyllis Lovitt, Barbara and Michael H. Maggio, Sr. Aunt Helen Johnson, cousin Matthew Johnson, and close friend and fellow Smokejumper Luke Sheehy. Joey will be greatly missed.
"Greater love hath no man than this, that a man lay down his life for his friends."
There will be a memorial service at the Arcata Methodist Church on Saturday, June 10 at 2 p.m.
###

The obituary above was submitted by Joey's mother. The Lost Coast Outpost runs obituaries of Humboldt County residents at no charge. See guidelines here.