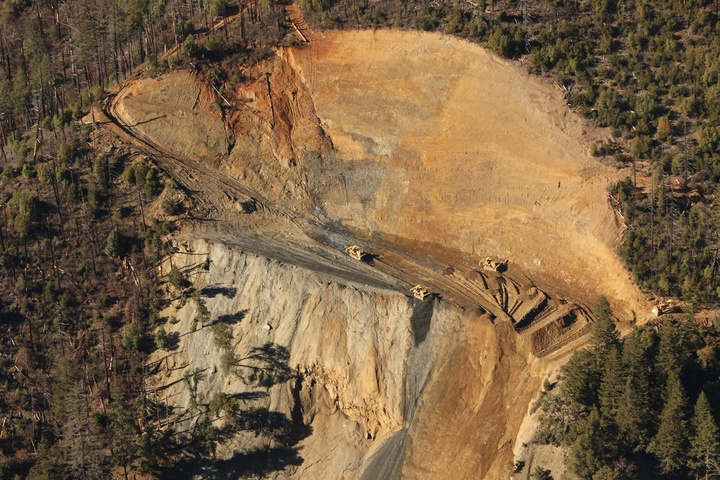 From Caltrans District Two:
Residents, business owners, and other travelers in the areas surrounding the construction site on SR 299 at Big French Creek have been taking advantage of a total of six daily road openings by Caltrans District 2, and no-weather related closures.

Medical appointments, getting to school, running errands such as going to the U.S. Post Office or grocery shopping, visiting family, checking on property after a storm, or transporting goods are the main reasons for using SR 299 between Del Loma and Burnt Ranch.

Caltrans and contractor Steve Manning continue working 24/7 in an effort to expedite opening the road as soon as possible while meeting all issues pertaining to road safety.

Favorable weather conditions are helping accelerate operations as work stoppages due to weather have not occur since last weekend. The excavation work has made good progress and is transitioning from pushing material over the face of the slide to pushing material to the east end of the slide. This will result in less material falling on to the detour road below, making maintenance of the detour more efficient.

The daily schedule continues as follows:

Morning, 5:30 am to 7:30 am
Afternoon, 4:30 pm to 6:30 pm
Overnight (with expected 1-hour delays) 6:30pm to 5:30 am.
Single-time openings at 10 am, 12 pm, and 2pm.

Local traffic applies to travelers who live, have a business or have to travel between Redding and Eureka and vice-versa; the same for Trinity County. Travelers from outside this region are encouraged to take alternate routes such as State Routes 36 or 20.

Please check back on Facebook — Caltrans District 2 — for updates, follow us on Twitter at Caltrans D2, call our information line at 530-225-3452 or call our office Monday-Friday between 8 am and 5 pm at (530) 225-3426.