There are several nightmarish scenarios – including the failure of a dam holding back Ruth Lake – that would result in a wall of water washing over homes and businesses in several communities, including Blue Lake and Arcata.
In preparation for such disasters, the Arcata Fire District is working with several local agencies to create what it is calling the "North Humboldt Bay Flood Response Tactical Plan."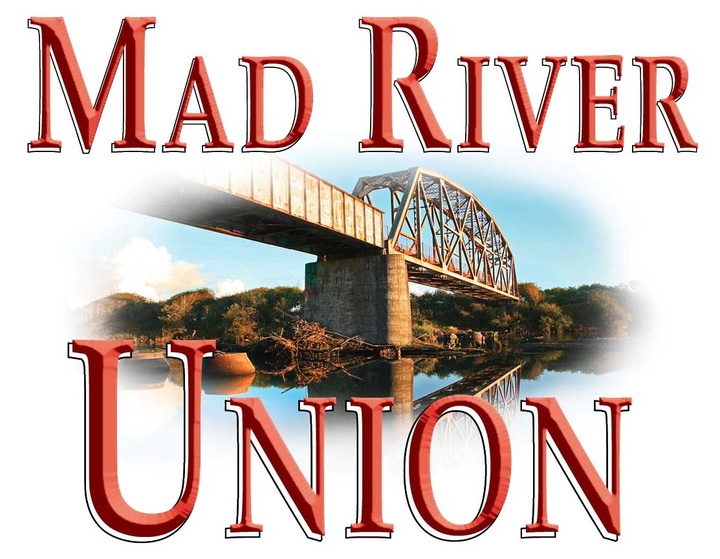 The document would detail how the Arcata Fire District, Blue Lake Volunteer Fire Department, Fieldbrook Volunteer Fire Department, Arcata Police, Humboldt State University Police and other local agencies would respond in the event of a massive flood from a dam failure, tsunami or massive rainstorm like the one that caused the Flood of 1964.
The plan, being prepared by Greenway Partners of Arcata, would outline how agencies would go about evacuating neighborhoods and how and where people and equipment would be deployed. Greenway helped the fire district obtain a $97,000 grant from the California State Water Resources Control Board a year ago.
Greenway Project Manager Kirk Cohune said his company will work with the fire district and various stakeholders to develop the plan over the next 12 months and will develop training materials and hold tabletop exercises.
The idea is to have a well-though-out game plan in place in the event of such a catastrophe.
If Ruth Lake's dam fails
Arcata Fire Chief Justin McDonald discussed the emergency plan last month, just days after about 200,000 residents living downstream from the Oroville Dam in Butte County were evacuated due to concerns that the dam's spillway would fail. The spillway is holding up and residents were allowed back home, but the incident raises the question: Could Humboldt be threatened by dam failures? The answer: Yes.
There are six dams located upstream from Humboldt County waterways. All of them are outside Humboldt County, but if they failed they would send a wall of water downstream, flooding and, in some cases destroying local towns.
One of biggest concerns for the Arcata Fire District is the R.W. Matthews Dam, an earthen structure in Trinity County that holds back Ruth Lake.
Humboldt Bay Municipal Water District, which owns the dam, called a cataclysmic failure "highly unlikely" in its Emergency Response Plan. But failure is not impossible.
"Nothing is infallible," said Cohune, who is carefully studying the various disaster scenarios.
There are several different scenarios that could potentially cause the dam to fail. There could be a giant earthquake, a terrorist attack or there could be a massive storm that overwhelms the spillway and causes the lake to top the dam and erode structure. It is worth noting that the dam, built in 1962, survived the Flood of 1964.
Wall of water
The Humboldt Bay Municipal Water District created "enhanced inundation maps" that show where Ruth Lake water would go and how high it would be if the dam failed. The district uses two different scenarios – "a sunny day" scenario with low water flows in the Mad River and a worst-case scenario, with flood levels similar to the great Flood of 1964.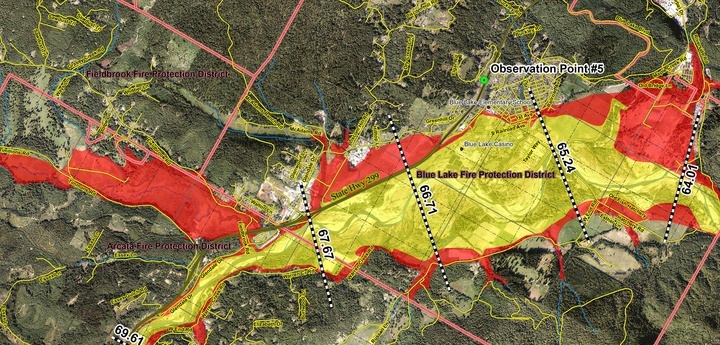 Under the worst case scenario, a wall of water would sweep through the Mad River watershed, wiping out small towns, taking out bridges and destroying roads.
The destructive deluge would hit the Maple Creek area about four hours after the dam failure. About an hour and a half later, a wall of water would wash over Korbel.
About five and a half hours after the dam break, the water would reach Blue Lake, where the water would be about six feet tall at Blue Lake City Hall.
The Valley West area of Arcata would start seeing water about seven hours after the dam break, with the peak flow about 11 hours after the dam break. The area would be covered in about two to four feet of fast-moving water, carrying debris, snags and logs that would act like battering rams, destroying property as the water slowly drained away into the bay and out into the ocean. Water levels would drop significantly as flows cross the Arcata Bottom and the South G Street area.
McKinleyville, which sits atop a bluff, would be spared, except for low lying bottom land.
Other dam threats
Humboldt County's Dam Failure Contingency Plan, approved by the Board of Supervisors last summer, lists five other dams that would pose a threat to local communities if they failed.
The Lewiston and Trinity dams, located near Weaverille in Trinity County, would flood downstream communities along the Trinity River, which empties into the Klamath River. Humboldt County communities that could be flooded are Sandy Bar, China Flat, Willow Creek, Sugar Bowl, Hoopa Valley, Weitchpec, Martin's Ferry, Cappell Flat, Pecwan, Johnsons and Blue Creek.
Scott Dam in Lake County holds back the Eel River. If the dam were to fail, Lake Pillsbury would flow down the Eel River watershed, wiping out communities along the way. Humboldt County communities include Alderpoint, Fort Seward, Eel Rock, McCann, Camp Grant, South Fork, Weott, Burlington, Myers Flat, Miranda, Larabee, Holmes, Shively, Pepperwood, Elinor, Stafford, Scotia, Rio Dell, Metropolitan, Fortuna, Fernbridge, Loleta bottoms, Ferndale and Ferndale bottoms.
The Copco and Iron Gate Dams in Siskiyou County hold back the Klamath River. Should these dams fail, Humboldt County communities that would be affected include Orleans, Bluff Creek, Weitchepec, Martin's Ferry, Cappell Flat, Pecwan, Johnsons and Blue Creek.
The Dam Failure Contingency Plan does not include inundation maps showing where the communities would be flooded and at what depth. The Humboldt County Office of Emergency Services plans to add additional data to the document in the future.
Disaster response
Fire Chief McDonald emphasized that the emergency response plan that is being prepared for the fire district is for any type of major flooding, not just those caused by dam failures. The flooding could come from a tsunami, or just a big storm.
"It doesn't really matter where the water is coming from," McDonald said.
The document will be detailed, he said, giving firefighters a clear plan for what to do in the event of a major flood. This will include details such a script to read through loudspeakers on fire trucks, urging residents to evacuate.
In the event of a dam failure, the Valley West area and neighborhoods near Mad River Community Hospital would need to be evacuated. The hospital, McDonald said, has its own evacuation plan.
"The big thing is that when there's an evacuation, you've got to go," McDonald said.
###

Jack Durham is editor of the Mad River Union. Subscribe here.