Note: This post has been updated to include responses from Blue Lake Elementary officials.
Bernadette Tadic, a 14-year-old seventh grader at Blue Lake Elementary School, couldn't quite believe the question she got in health class yesterday.
It was part of a "Personal Fitness Questionnaire" that her teacher had handed out to the whole class, and it just didn't seem right.
"I thought it was a really inappropriate question to ask middle schoolers," Tadic told the Outpost this afternoon via text (of course).
After reading the question, Tadic thought about it for a minute before taking her pencil and writing a defiant response: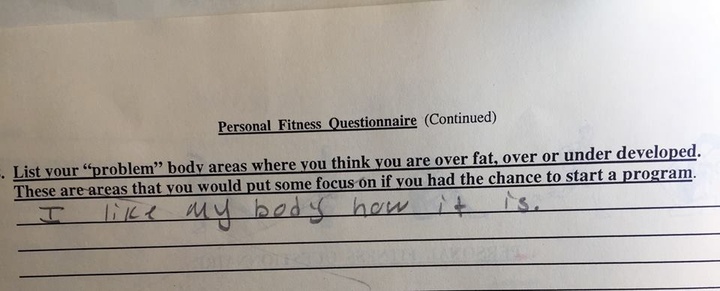 Her mom, Alanna Powell, later posted this picture on Facebook, saying, "Proud of my baby girl's response to this ridiculous question." (Disclosure: Powell is a friend of this reporter.)
Numerous people expressed their outrage on Facebook, wondering how an authority figure could ask teenagers to identify flaws in their bodies. "Hard to believe schools still do that, given what we now know about eating disorders, depression, anxiety, poor self-image etc," one commenter wrote. "The school should be ashamed."
Powell said the question made her daughter angry, and it upset some of her fellow students.
"She was quite fired up about the whole thing, but she voiced more concern about her classmates and how it made them feel," Powell said. One friend in particular had an emotional reaction, and Tadic tried to comfort her. She also expressed her concern to her teacher.
Tadic told the Outpost that her teacher said the questionnaire came from a school in Los Angeles and suggested students "could just put down that we want our muscles to be tight. It was weird," she said.
Shortly after the original version of this story was posted, Blue Lake Elementary School Superintendent-Principal DeAnn Waldvogel called the Outpost to express her remorse.
"This is a very unfortunate situation," Waldvogel said, adding that the question, which she'd not seen before today, was "completely not OK." The document with the question will be removed, and two apology messages will be drafted — one to the students and another to be posted on the school's website, Waldvogel said. Administrators are also considering bringing in a counselor to address body image issues with students and having the teacher who handed out this form pursue professional development.
"It was definitely poor judgment by my teaching staff. I've been very direct with her," Waldvogel said.
Blue Lake school board president Sam Wedll also contacted the Outpost to say he was "shocked and taken aback" by the question, which was especially unfortunate given that it's International Women's Day.
"It's not something the school supports," Wedll said. "I can't speak for the entire board, but as board president it's definitely inappropriate and will be removed." Like Waldvogel, Wedll expressed support for developing curriculum around body image issues, something he and the district take very seriously, he said.
Powell shares her daughter's concerns.

"I'm obviously disappointed my daughter would be asked such ridiculous question," she said. "Young girls have it hard enough. Come on. We should be educating these young women about self-love and acceptance, not how to pinpoint and focus on their nonexistent flaws."
And it wasn't just the "over fat" bit that bugged her.
"The part about underdeveloped got me," Powell said. "What are we talking about here, breasts? And if so, how is a physical program going to help 'fix' that? All in all, she gave the best response I could ever hope for. … She packs a lot of power in there."
Indeed she does.