OK, so United never claimed to be the friendly airline, only that they (and presumably, only they) flew in friendly skies. But it was definitely unfriendly of them to drag that dude (whatever his profession, doctor or anything else) off a flight to make room for a United crew en route to their take-off airport. And to compound the insult, the UA CEO managed to shoot himself in the foot by calling the injured passenger "disruptive and belligerent." He's since backtracked, but my take, reading about the whole affair, was, "Flying sure ain't what it used to be."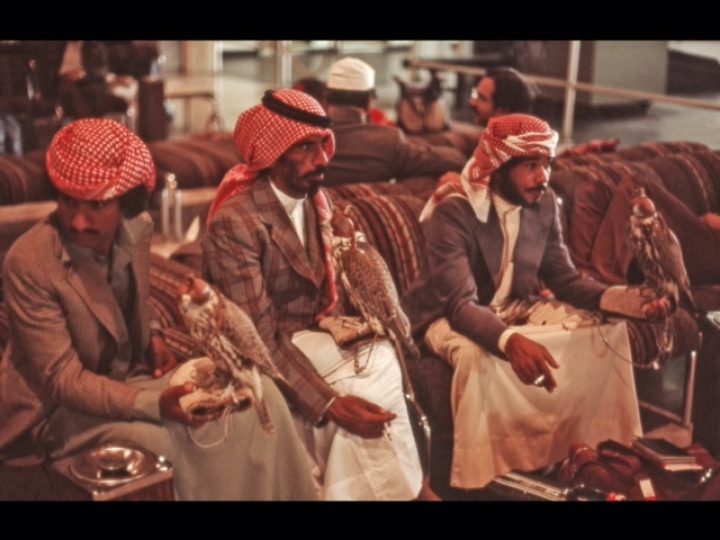 Now I'm not claiming that this photo, taken during a stopover in Abu Dhabi airport (AHU) in 1982, would have been typical of flying anywhere in the world back then, but it sure evokes a different era, one where you could board a plane with a falcon on your wrist. I remember asking — or miming — the three guys if I could take their photo, and they nodded, then looked fiercely in the other direction, cigarettes at half-mast. I'd seen dogs and cats alongside passengers, but falcons? That was a first.
And whatever happened to visiting the flight deck, middle of the night, middle of the Atlantic? I would routinely ask a flight attendant if I could go see the flight deck, just a tad more sophisticated than the instrument panel of the Cessna 150 on which I'd gotten my PPL. This was on British Airways 747s, Seattle or Vancouver to London in the 1990s, and I'd always end up chatting to one of the pilots about GPS versus inertial navigation, pretending to know more than I did. It made those long flights so much more fun than nowadays, cramped into our cattle-class seats (and more cramped every year), nowhere to go but to the loo. I still remember the attendant's horrified look when I asked the same "flight deck visit" favor post 9/11, you'd have thought I'd asked if she was up for a bit of nookie.
To riff on cramped airline seats for a moment, the problem isn't just the airlines cramming in an extra row or two. It's us. The CDC reports that over the last 40 years, the average American gained (1) 20 pounds and (2) 2 1/2 inches around the waist. While the width of coach seats is still 17-18 inches. And 20 years ago, the space between seats ("pitch") was usually 34 inches. Now it's a knee-crushing 30-32, while American Airlines is planning to go to 29 inches for some rows next year on its Boeing 737 "Max" planes (—the other rows will be 30 inches).
###
On the other hand, airports are improving, especially (sigh) overseas. Changi airport (SIN) in tiny Singapore, for instance, where one could rent six hours in a tiny room with a comfy bed, hot showers down the hallway, for $10, then to emerge and spend the rest of your stopover time in the bar, complete with swimming pool — all without going through security. South Korea's Incheon (ICN) airport goes one better — returning from southeast Asia two years ago, Louisa and I passed the time during a 10-hour layover by taking a free tour of Seoul, returning in plenty of time to enjoy free hot showers and a chamber music recital before re-boarding. (Our tour guide explained this was the local tourist bureau's way of encouraging people to come back and visit.)
You've only got to hang out in Portland's bright and airy refurbished airport (PDX) for an hour or so to show what can be done, given the means and the will. The most recent innovation there is a small cinema, free to all, where they show short movies, often created by local film students.
And hey, don't forget ACV, now with Ramone's and a very much improved waiting area and super-courteous TSA staff. Now if only we could get a few more flights per day to match.