---
OBITUARY: Marcia Jean (White) Dubaldi, 1945-2017
---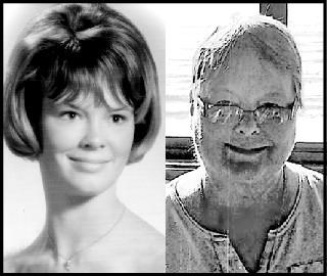 Marcia Dubaldi passed away and was greeted in the arms of the Lord of which she devoutly believed on Saturday, May 13, 2017, at the age of 71. She was surrounded by her entire family and so many friends.
Mom was born at the US Naval Hospital in San Diego in October 1945 to her parents Harvey L. White and Bette J (Graham) White Gamage.
Shortly after her birth the family moved north to Humboldt County, where they settled in Eureka. Mom attended local schools and graduated from Eureka High School in 1963. She played the violin growing up (which she later admitted to hating even though she was good at it … something about carrying the violin everyday to school was very annoying to her), she dabbled in art and dance, and she seemed to be naturally photogenic as I have yet to come across any photos where she looks anything but cute as can be. In high school Mom was very popular and had many interests, it seems, including being a cheerleader.
During and after high school, Mom held jobs in both the dietary kitchen at the Hospital and in the lab as well. Soon after that she moved to Southern Humboldt for a few years. After a few jobs and a few years Mom seemed to find her niche in retail sales, specializing in women's wear, and pretty soon one job led to another and another and another and before she knew it she was retiring after almost 42 years working in retail sales. She was a loyal and dedicated employee, an extremely hard worker, and even managed a few of the stores herself over the years. Some of her long lasting jobs were with Bistrins in three locations — Eureka, Garberville (managed) and Arcata — Mode-o-Day, Dalys (close to 20 something years until they closed), JC Penny, and last but not least Gottschalks. To this day I'm sure there are many ladies in town who have something in their closet that our mother sold them over the years. It wasn't just a job to her but a livelihood that she enjoyed immensely.
Mom always dressed to impress, looked flawless from top to bottom, and took a lot of pride in her appearance. Even at the end of her life mom was directing traffic on how she wanted to be dressed and how she wanted her nails done. Mom was just as beautiful on the outside as she was on the inside … always.
Mom enjoyed any activity that involved her kids or nieces and nephews. She enjoyed watching her kids' sporting events and helping in the classrooms as they grew up. Many fun times were had and memories made over the years camping at Grizzly Creek, Richardson's Grove and Benbow State Parks. Mom enjoyed BBQs, picnic lunches and bonfires. She enjoyed walking through Sequoia Park and Zoo enjoying the animals and the redwoods and feeding the ducks at the pond. She loved the ocean and hanging out looking at waves or for shells at the beach. She enjoyed going "to the show" (movies) and we all know her favorite was ET (which happened to be on a marathon loop on tv the day she passed, if anyone caught it). She also liked scary movies.
She loved going out to eat where she could always enjoy a good crab sandwich, french dip, fish and chips, salmon or petrale sole, prime rib with baked potato, Moo Goo Gai Pan and chile relleno, KFC or a hamburger, breakfast out,. She and she really loved fresh-picked fruits and veggies that were in season, her most favorite being apricots, peaches, and plums. Cottage cheese and peaches being a favorite her whole life, she loved egg salad and good tuna fish sandwiches, and she loved a good salad bar.
Mom loved all animals wild and domestic, particularly fond of dogs, cats, bunnies, horses, goldfish, hummingbirds, bluejays, giraffes, monkeys, and pelicans and she enjoyed them anyway she could. She loved baking, and everyone stills begs her every year for her famous Candy Cane cookies. She loved to garden and loved fresh cut flowers. She loved to watch and listen to rainstorms but loved sitting in the sunshine and getting a tan just as much. She loved watching her daily General Hospital and Judge Judy. She loved listening to "her music" (country music, Elvis, The Beatles, amongst others). She loved to feed blue jays wherever she found them … even if it was against the rules. Mom loved a car ride to anywhere, and she equally liked to dress up or dress down depending on the occasion.
Mom loved to laugh hard and she also liked to cry … she said it was good for her. Mom never held a grudge really and she had mastered the ability throughout her life to either "grin and bear it" or "say something nice or don't say anything at all." She never used the Lord's name in vain but she threw out the occasional "shit happens," which always made us smile. She loved to chat but hated talking on the phone. She never wanted a computer or a cell phone but she always enjoyed seeing whatever I was looking at, or taking selfies with me (well sometimes, LOL), and of course she loved to go "shop shop," most always for other people before herself.
Some of Moms best days were spent close to the ocean and she had a strong connection to the ocean and enjoyed days at the beach. It never got old to her. She loved crab, hated picking it, and looked forward to the season every year. Mom enjoyed holidays and birthdays and never forgot to send a card for one (Hallmark just might go out of business now).
Still to this day I have yet to meet anyone who has an ill word to say about our Mom. She truly was the nicest, kindest, most gentle, and most giving soul we have ever met. She had the best smile we've ever seen. Mom was always disappointed in social injustice and was always compassionate to those less fortunate or in need, she believed in giving instead of receiving and "doing unto others as you would want done for you," which is why Mom literally never had any enemies. Despite all the obstacles and tragedies Mom's life seemed to throw her way — many beyond her control and never her fault — her belief in the Lord and her tenderhearted nature never wavered. In fact she persevered, overcame and truly enjoyed living. She never stopped giving of herself and her love for her family and friends, right up to the very last second.
Mom was preceded in death by her parents Harvey, Bette, and Ed Gamage, her dog Loreal, her grand-dog Lucy, her beloved niece JoAnna White, and too many of her close friends to list. Mom thought about each one every single day of her whole life and we take comfort knowing they all are surrounding her with love and devotion in the Lord's kingdom.
Mom is survived by a family that will feel her loss for a long time to come — her daughter Pam Dubaldi and grand-dog Freckles, her son Don Mayhew Jr and his wife Stephanie and their children, mom's grandchildren Ryan and Chayse and her other grand-dog Sadie. Mom is also survived by her brother David White and his wife Pam and their children (her nieces and nephews) David White Jr and Kenzi, and their children Dayton, Zoe, Kenadie Bette Jean, and Dre, and Dustin White and Jeny, and their daughter Peyton. Mom is also survived by her sister Vicky Jones and her children Casey Sue and Chris, Katie, and Jessica Jones and their children Reece, Kayla, Kelsey, and Brody. Mom is also survived by Philip, Miate, Matthew, and David Dubaldi. She loved each of these people in her life so so much. We would be remise if we didn't list her best friend from childhood Sherry (Sherwood) Anderson and her entire family deceased and living. They were more like sisters and family than friends and there wasn't anything Sherry wouldn't do for Mom and vise versa. They had a bond that lasted close to 60 years. Sherry was a best friend to Mom like no other and this entire family recognizes Sherry as part of our lives.
Our Mom had what seemed like a million friends at her home of the last 8 years, the Silvercrest Residences in Eureka, and what seemed like a million more throughout town that always sent cards, made calls and said "Hello" if we were out and about. Mom remembered every former retail customer by name and always liked to share a story about what they liked to shop for or how she knew them. Again, I have yet to meet anyone who has anything but love for our mother and we realize she was a special soul and will be missed by so so many.
Pam would like to acknowledge some very special people in Mom's life that were also loyal and dedicated to her over the years. These people cared for Mom as much as she cared for them and she loved each of you so, most like family … Jan Hughes, Fern Christenberry and her daughter Christine, Marcella Tremaine, Marie Horn (deceased), Laurie, Pat, Donna, Bernice, Claudette, Judith, Linda and her other close friends at Silvercrest. Some people that deserve thanks for helping Mom and for helping me over the years to give Mom the best life I possibly could give her … Dr Willard Hunter (whom Mom saw as her primary care physician for close to 40 years) and his entire staff, including Stacy and Jessica, Dr Jasen Christensen and Dr Katy Wilson, Dr Tiffany Ho and the entire staff at Redwood Podiatry, Dr Ruchong and his staff, Becky Tanenhaus from IHSS (who also went to school with Mom back in the day), the entire staff at Cloney's Pharmacy, the Staff at St Joe's, the entire staff past and present at Silvercrest Residences, and the entire staff at Adult Day Health, including Jackie, Heather, and her favorite driver Tim; Laurie. Moms helper, her hairstylist for too many years to count Bobbie Jo, her most recent nail manicurist Jeny (also her niece), and all of her Avon ladies over the years. There are so many more … too many to list, please know you are not overlooked or forgotten and that I am forever grateful to you all for the help, love, and kindness you showed my Mom every day. Some of you have known her for years and some only a few months but she loved you all just the same and if you made her happy or smile then you made me happy as well.
Per Moms request there will be no public memorial service, Mom was too humble for that. The family will honor her wishes and scatter her remains later this year in her desired location. We request that any monetary donations be made to The Sequoia Park and Zoo in her name and we will be placing a memorial bench in her name there sometime soon. Also the Sequoia Humane Society or the Humboldt County Animal Shelter are acceptable places to donate in Mom's name, she loved animals so. And of course the Salvation Army local branch — Mom felt blessed to have all that she did and hated to see others suffer and the Salvation Army helps the community in so many ways…she would want to support that. Correspondence for the family can be sent to the attention of Pam Dubaldi PO Box 6723 Eureka Ca 95502 and I will share with the family when we gather to celebrate our mother, our grandmother, our sister, our Aunt Marcia.
Mom's favorite Psalm, Psalm 23: David's Confidence in God as His Shepherd:
The Lord is my shepherd; I shall not want.
He maketh me to lie down in green pastures: he leadeth me beside the still waters.
He restoreth my soul: he leadeth me in the paths of righteousness for his name's sake.
Yea, though I walk through the valley of the shadow of death, I will fear no evil: for thou art with me; thy rod and thy staff they comfort me.
Thou preparest a table before me in the presence of mine enemies: thou anointest my head with oil; my cup runneth over.
Surely goodness and mercy shall follow me all the days of my life: and I will dwell in the house of the LORD for ever.
###

The obituary above was submitted by Marcia Dubaldi's family. The Lost Coast Outpost runs obituaries of Humboldt County residents at no charge. See guidelines here.
---
SHARE →
---
---