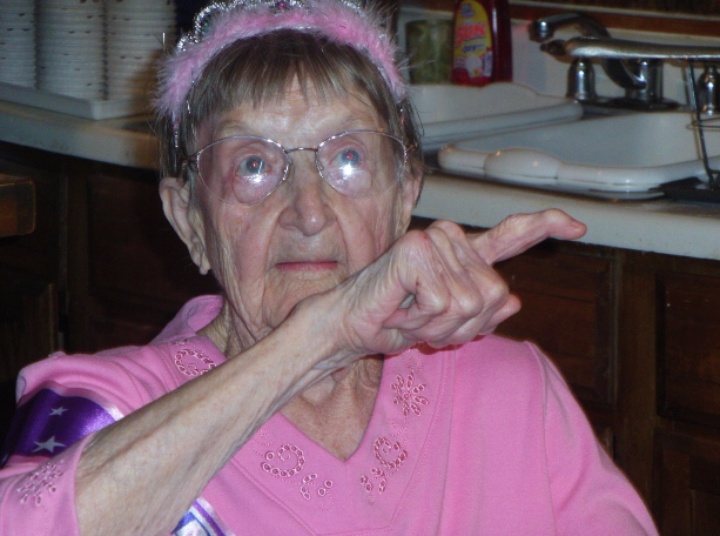 Mary Alice Ferry — also known as "Mackey" — died Apr 27, 2017 in Eureka at the age of 91.
Mary grew up in Louisana had 10 brothers and sisters. She married Marvin in 1940 right before he left for France to fight in World War II. She and Marvin had three children, Maxine, Hoss, and Sheron. Mackey graduated from Eureka High School in 1977 while raising her family and working. She loved to garden and to make scrap books. When a person went to Mackey's house she often lead you from room to room showing off her photos of family. She loved her kitty, Tangerine, who laid with her in the last days. She enjoyed going to lunch with her girlfriends Doris and Mary. She had six grandchildren, Cody, Ricky, Mary, Joey, Tiffany and Garret. She has three great grandchildren Saraya, Kaden and Savanna. She had numerous nieces and nephews who she loved dearly. She spent a lot of time with Marsha and Sandy until the very end. She loved when they would come stay overnight. She loved to talk on the phone to Mackey Ann and various other family members. Please know she loved you all.
Mackey is preceded in death by her husband of 53 years, Marvin Ferry, two children Maxine and Hoss and her two grandchildren Tiffany and Mary.
Mackey lived for 60 years at 1775 Heuer Drive in Cutten. This was home to many of her relatives especially her grandchildren, Tiffany and Garret. At the end of her life Garret and his wife, Elayne were able to provide her with the same love and care she had given him so freely throughout his life. A memorial will be held May 13, 2017 at 1 p.m. at her house on Heuer Drive. Everyone is invited.
###

The obituary above was submitted by Mackey's family. The Lost Coast Outpost runs obituaries of Humboldt County residents at no charge. See guidelines here.