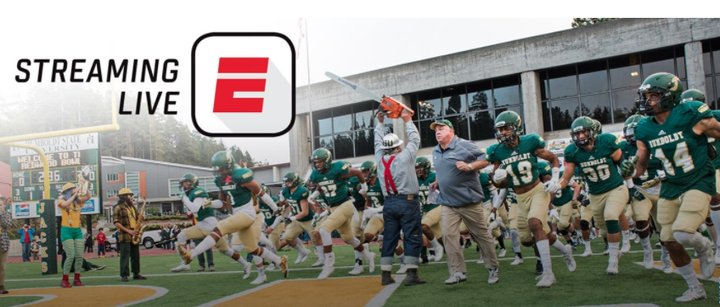 Images from HSU Athletics Department.
Humboldt State University Athletics Department:

ARCATA, Calif. – The Humboldt State football program will have a national audience for its regular season finale, a showdown for the Great Northwest Athletic Conference title, versus Central Washington in the Redwood Bowl. The Sat., Nov. 11, home game will be streamed to a national audience on the ESPN3 platform and the ESPN app.

"This is a huge honor earned by a fantastic football team and coaching staff," said HSU interim Athletic Director Duncan Robins. "ESPN has picked the perfect game: two teams playing for the conference title in the rockin' Redwood Bowl. Should be another epic Humboldt event that you won't want to miss!"

The contest at the Redwood Bowl in Arcata, Calif., has been selected as one of four flex games added to the NCAA Division II Football Showcase. The game will not only have GNAC title implications, but will also have an impact on the NCAA Division II playoff race. Central Washington is looking for its first GNAC championship since 2012 and its first berth in the postseason since 2009. The Wildcats will assure themselves of no less than a tie for the GNAC title with a win this Saturday at Humboldt State. Humboldt State aims for its first conference crown since 2015, the same year the Lumberjacks earned their first NCAA Division II playoff appearance.

HSU last appeared in a nationally-streamed ESPN3 Football Showcase game to kick off the 2016 season at Carson-Newman. The Green and Gold won the road game 52-45. This will be the second time Central Washington and the Jacks have appeared on national television in the Redwood Bowl. The two teams battled in 2011 in a game broadcast on the CBS Sports Network. Humboldt won the game 38-36 on a last-second field goal.

The season finale features a Tribute to the Troops promotion and all veterans will receive free admission to the game. HSU's senior class will be also be recognized during pregame ceremonies.

Tickets for the game are on sale now and fans can purchase them by visiting HSUJacks.com/tickets. HSU students, faculty and staff receive free admission to all regular season home games with campus ID.
ABOUT ESPN3: ESPN3 is ESPN's live multiscreen sports network, a destination that delivers thousands of exclusive sports events annually. It is accessible on computers, smartphones, tablets and streaming devices through the ESPN App.

The network currently is available nationwide at no additional cost to fans who receive their high-speed internet connection or video subscription from an affiliated service provider. It is also available at no cost to U.S. college students and U.S.-based military personnel via computers, smartphones and tablets connected to on-campus educational and on-base military broadband and Wi-Fi networks.