Rep. Jared Huffman visited Old Town Eureka this morning to award Los Bagels for its environmentally friendly and sustainable business practices.

Huffman presented Los Bagels founder Dennis Rael with the Sustainable North Coast award, a monthly award handed out by the congressman to businesses within California's Second Congressional District.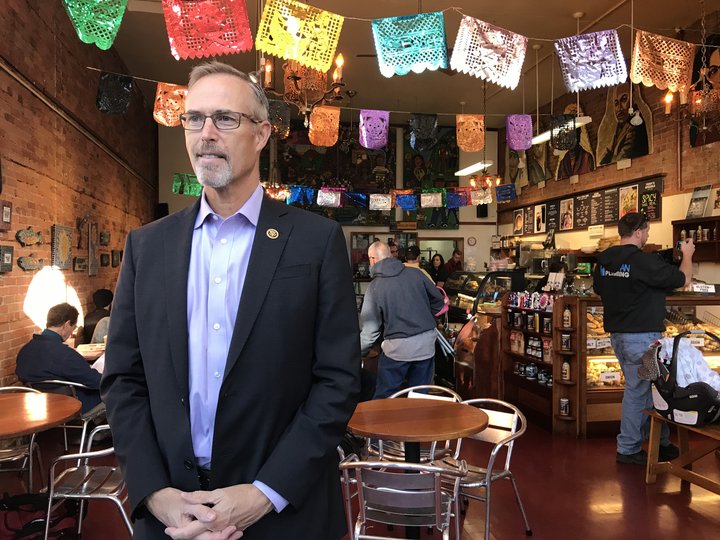 "Every month I recognize some small business somewhere in my district that is doing good things that we think embodies sustainability — which is everything from how you treat your employees, to how you engage and support the local community, to what you're doing for your environmental footprint," Huffman said in the middle of the crowded bagel shop. "Here at Los Bagels, you've got a great example of a company that has a big vision that addresses all of that."
Business founder Dennis Rael said he was surprised when Huffman's people reached out to him, because he was previously unaware that such an award existed.
"I was very excited, because [the award] talked about a variety of things: sustainability, community involvement, employment — not just with the zero-waste program," Rael said. "I love the acknowledgement."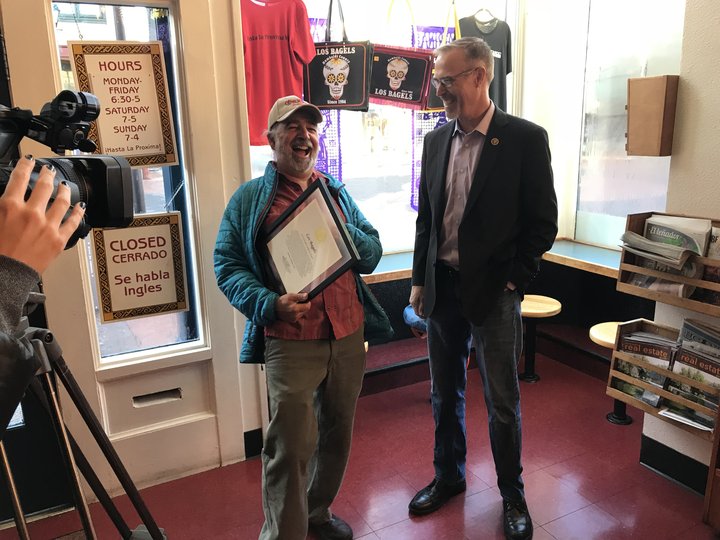 Huffman (right) and Rael share a larf.
Rep. Huffman will also be appearing at the Salt River Celebration at Ferndale's Veterans Hall today at 1 p.m.
Before leaving, Huffman shared with the Outpost his goto bagel combination.
"I like cream cheese and lox, light on the capers, with local sustainable salmon — that's my sweet spot."