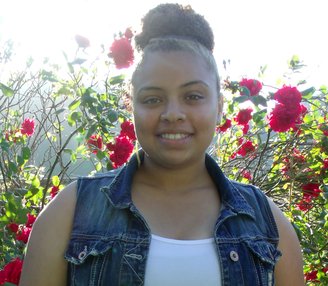 Erica was born on September 9, 1998 in Sacramento to Eric Young and Crystal Masten-Young. Erica crossed over to be with her ancestors on November 3, 2017.

She is survived by her mother and father Eric & Crystal Young, brothers Eric Young Jr., Dennis Young & Tavis Young, Great Grandmas Vivienna Masten & Lavina Bowers, Grandma, Valerie O'Rourke, Grandparents, Leonard & Sue Masten & numerous aunts, uncles, cousins & friends.
She is preceded in death by great Grandparents Lorraine & Richard O'Rourke Sr., Duke Masten, Clarence Riley, Catherine Lowery, Grandparents Dennis Young Sr. & Gail Young.
Erica is a descendant of the Yurok, Hupa, Karuk, Blackfoot and Shasta People, and an enrolled member of the Yurok Tribe.
Erica graduated from Hoopa High School and was attending Shasta Junior College in Redding. She loved school and she was an honor roll student throughout her school years. As a freshman she helped several seniors to complete their school work to graduate.
Erica came from dance families and was dedicated to her culture and traditions, participating for many years in ceremonial dances. She enjoyed cooking with her dad and feeding others. She had a smile that could light up a room & always thought of others before herself. Erica was very caring; She always looked after those around her from babies to elders and would drop what she was doing to lend a hand, even going without if it meant helping family or friends.
Although Erica was only 19 she touched the lives of many and was wise beyond her years. Her goofy manner, ruff and tuff attitude, silly giggle & big dimples were infectious. She was known for her independent spirit, fierce determination, and extreme loyalty. She loved spending time with family and friends, making memories along the way that she will take with her & that will remain in our hearts to cherish. She was deeply loved, and will be missed and remembered by all who came into contact with her.
"Those we love don't go away, they walk beside us every day, unseen, unheard, but always near, so loved so missed, so very dear"
Pallbearers: Eric Young Jr., Terrence Marshall, Jerrett Matilton, Greg Masten, Will Bowers, and Cole Kane
Honorary Pallbearers: Bill Bowers, Marty Wortman, Tom O'Rourke, Tiger O'Rourke, Christopher Cochran, Jonathan Masten, Bob Kane Sr. John (Knox) Marshall, Billy Colegrove, Tony Alameda, Loren Norton, Howard McNeely, Stanford Joseph, Nah-tez Jackson, Thomas Joseph, Ralph Sorrell & Ryan McManus
Honored Women: Vivienna Masten, Lavina Bowers, Valerie O'Rourke, Susan Masten, Millie Grant, Alisha Cochran, Patti Gibbens, Carole Lewis, Kay Inong, Margo Robbins, Janet Wortman, Debora Yturralde, Diane Bowers, Vivienna Orcutt, Rose Gibbens, Wasey Inong, Hope Masten, Patty Joseph, Irma Matilton, Ashley Bowers, Tyler Alameda, Courtney Mattz, Ryan Colegrove, Kis Joseph, Shelby Clark, and Karen Lewis.
There will be a wake held in honor of both Erica Young and Lacy Jackson at Vivienna Masten's house on Masten Flat, Thursday, November 9, 2017.
A celebration of Erica's life will be held at 1:00 p.m. on Friday, November 10th, at Hoopa Valley High School Mattz Gymnasium. Burial will be at Masten Family Cemetery. A reception will follow at the Hoopa Wildland Fire Building.
###
The obituary above was submitted by Erica Young's family. The Lost Coast Outpost runs obituaries of Humboldt County residents at no charge. See guidelines here.