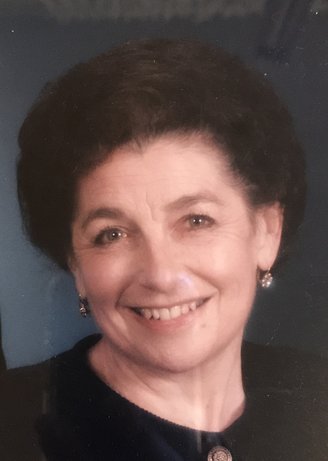 Evelyn Bongio, age 88, passed away peacefully on Nov. 4, 2017, at St. Joseph's Hospital, with the love and comfort of her family.

She was born March 10th, 1929, to Frank and Caterina Pesenti in Templeton, California. She was one of six children. Evelyn attended elementary and high school in Templeton and later worked in the family business, Pesenti Winery, as a bookkeeper.
In September 1951, she married the love of her life and her constant companion, Aldo Bongio, and moved to Eureka where her three children, Cathy, Denise and Alan were born and raised. Evelyn enjoyed her friends and playing pinochle. She belonged to a Birthday Club that met since she first moved to Eureka in 1951. Evelyn was an active member of the Order of Sons of Italy, Eureka Lodge #1274 and served as secretary for 20 years. She was an active member of the Italian Catholic Federation #145 and a member of Sacred Heart Church. Evelyn was dearly loved and will be missed by all who knew her.
She was known affectionately as Mom, Grams, Grammy, Noni, and Evie or Evelina. Her family was the most important thing in her life. She always had a ready smile and nourished those around her with love, faith, food, and good advice.
She is survived by her husband of 66 years, Aldo Bongio; her children: Cathy Jamello and husband Robert, Denise Bode and husband Cris, and Alan Bongio and wife Mary; her seven grandchildren: Catrina Jamello-Mesa and husband Bernard, Caitlin Clarke and husband Tyson, Kelly Jamello and fiancé Frank Gilfillan , Shalea Zepeda and husband Raul, Jesse Bode, Logan Bongio and Luke Bongio; her three greatgrandchildren: Davin and Jaina Clarke and Anisa Zepeda; her sisters: Silvia Nerelli, Stella Mainini, Alice McBurney and Francis Price; her sister-in-law, Ines Bongio and numerous nieces and nephews. She was preceded in death by her parents, Frank and Caterina Pesenti; her brother, Victor Pesenti; and her granddaughter, Julie Ann Jamello.
Visitation will be held on Friday, November 10th from 4 p.m. to 7 p.m. at Sanders Funeral Home in Eureka. Funeral services will be held on Saturday, Nov. 11, at 2:30 p.m. at Sacred Heart Church in Eureka. Evelyn will be interred in the Pesenti Family Mausoleum in Paso Robles. The family would like to thank Evelyn's caregivers — Mitch Fears, Kelly Lund and Susie Miller — for their kind, compassionate care.
###
The obituary above was submitted by Evelyn Bongio's family. The Lost Coast Outpost runs obituaries of Humboldt County residents at no charge. See guidelines here.