Carolyn Scriven Kelly
January 31, 1942 - September 23, 2017
Celebration of Life will be held Saturday, October 28th, 2017 at The Sanctuary, 1301 J Street, Arcata, California from 2 p.m. - 5:30 p.m. Optional to dress in costume, witches encouraged.
###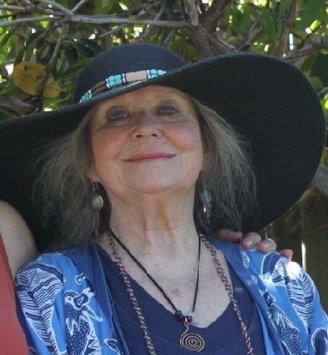 What a colorful, wonder-filled life she lived! Carolyn was born and raised in and around San Antonio, Texas. She was the eldest of three children, raised by their parents Arthur & Lillian Scriven Jr. and their aunties Mary, Bibbie, and Gussie Bailey, who were like three other mothers. Imagine how hard it was for her to lose a mother four times. Although she left high school early to begin her family, she was one of the most educated people you could ever meet. She was extremely well-spoken, loved reading and doing crossword puzzles, and continuously expanded her knowledge. She was especially interested in the arts, anthropology, mythology, social justice, critique of cultural norms, and geology (she always collected and treasured rocks). What an amazing storyteller! She possessed incredible wit and a highly developed sense of humor.

Having been baptized and raised Episcopalian, she always believed that there was more than this life, but was never satisfied with one explanation or satisfied with the idea that all answers would be in one masculine-based book. She explored spirituality in many realms, finding much respect and wisdom in the way of the Buddha; she was especially connected to Native American and Wiccan beliefs in honoring the earth while trusting the wisdom of the animals. She respected all great spiritual leaders. She always kept faith in the mystical power of angels, fairies, gnomes, magic, and extraterrestrial existence. She loved listening to the radio, especially Art Bell.
Her first love was Thomas Richardson Baker, with whom she eloped to Mexico in 1957. They had two children. He had an Oldsmobile named Shimy-Shimy with flames painted on the front. They had many fun times. She was married to Charles Winans in 1962, and together they had three children. In 1963, they went to Hollywood, and lived in Monterey where she worked in a milk factory in Cannery Row. Returning to Texas, they were part of a group who opened Grandma's Tea Shop in San Antonio: a mojo art gallery, poster, and button shop where she also sold vests that she sewed and peace bead necklaces. It featured Grandmas's Remedies and Art-Chem paint invented by George Warmack. It was one of the first head shops in Texas. They lived for awhile at MountainTop, outside of San Antonio. They did light shows and posters for many famous bands such as Jefferson Airplane, Big Brother and the Holding Co., The Velvet Underground, and The Sir Douglas Quartet. The Winter Wonderland Time Machine at Joske's Department store was one of their most impressive accomplishments. In 1967, they moved their family to California, spending some months in the Log Cabin in Laurel Canyon before settling in Carmel Valley and Pacific Grove. As part of Puppeteers of America, they traveled, performed, taught workshops, and created a collection of exquisite puppets. Punch and Judy was their most famous show. After an excursion between Cotati, CA and San Antonio, she married Robin Donald and returned with her children to Pacific Grove. There, she became involved in the early CO-OP movement and the Birth Center, which empowered her to have her last baby at home. Once more, she ventured to Texas and back to Cotati. Carolyn moved north to Blue Lake, CA in 1978. In the early years of Dell'Arte, Carolyn taught puppetry and mask making in trade for a studio space which is now the backstage area of the Mazzone Theatre. From the room that now houses the main office, she and her friends published The Northern Advocate, a historical newspaper of Blue Lake. She spent some time in Kentucky and Texas, exploring many areas in between, until she settled for about ten years in Forks, Washington. She worked various jobs in the many places she lived. She returned to Humboldt County in 2010, where she lived and passed peacefully in McKinleyville.
Carolyn loved animals and let her children keep an assortment of pets. She cared for them all — from mice, to ponies, and continued raising pets of her own, including a pot-belly pig named Petunia lost in a flood. She was especially fond of her dogs and cats, and enjoyed watching birds in her yard, tending to them as her wild pets. Her sweet cat, Pretty Polly, was her constant companion to the end.
She was an amazing gardener, able to transform bare land into beautiful, bountiful places. She loved music, appreciating keeping up with contemporary artists such as Lady Gaga. One of her favorite activities was dance, taking classes in ballet, modern, and African, and she was part of the Freestore Street Theatre Dance Troupe in Cotati, CA.
Carolyn was an accomplished artist, working in various mediums from collage to sculpture, but she was especially wonderful at drawing and watercolors. Fixing and mending were her specialities, and she was a great seamstress. She did alterations, quilts, and other sewing consignments to make money, but loved helping sew clothes for her children and grandchildren. She refurbished several antique dolls, and often talked of having a doll hospital. She still treasured many of her toys.
She had many life loves, including the fathers of her children, Tom Baker Sr., Charles F. Winans, and Robin Donald; as well as long-term partners Dennis Greenhill and Lori Benton.
She leaves her beloved sister Peggy Al and her husband Tom Warden; her children Tom Baker Jr. and wife Kim Olsen, Michele Marshall and husband Mike, Clay Winans, Camille McNeil and husband Jeff, Carlotta Clark and husband Alan, Columbine Donald; her grandchildren Amanda Olsen, Thalia Cleveland and partner Lelan, Adryan Cleveland and partner Shaun, Gabriel Wishon and wife Rose, Julian Wishon and wife Ani, Isaac Winans, Coffee Winans, Bambi King, Natasha King, Dustin King, Colton Walker, Jesse McNeil, Chanel Clark, Carissa Clark, Shaylin Yount, Rhys Yount, Emry Yount, and Felix Yount; and her great-grandchildren Lillian, Griffin & Averie Topps; Hayden Gregoria, Cypress and Clarity Wishon; Connor, Kayce, Ayden, Olivia, & Ashten King; Acelyn, Dallas, and Izaiah King; and Lee Roy King-Stockhoff.
Carolyn's grandchildren Richard Baker, Marble Ace Winans, Scotty Baker and Orion Sky King have been waiting for her to come play in heaven. She always said that her children, grandchildren, and great-grandchildren were the stars in her crown.
Thanks to so many dear friends who have been like family, helping generously through thick and thin.
Carolyn was always a free spirit; may she soar freely now. Remember to send some wishes in the wind and look for her in the stars.
###
The obituary above was submitted by Carolyn Kelly's family. The Lost Coast Outpost runs obituaries of Humboldt County residents at no charge. See guidelines here.