UPDATE, 4:39 p.m.: Whoa, givers! That'll do it!

LoCO just received a note from Bill Reynolds, Humboldt Bay Fire's deputy fire chief, letting us know that Humboldt Bay Fire Station One has just about reached capacity. Stay tuned, he says, on if they'll be designating additional locations as donation drop off points.
"Thanks to everyone for the generous outpouring to those in need," Reynolds said. "This is truly what makes Humboldt great!"
—Andrew Goff
# # #
UPDATE, 1:15 p.m.: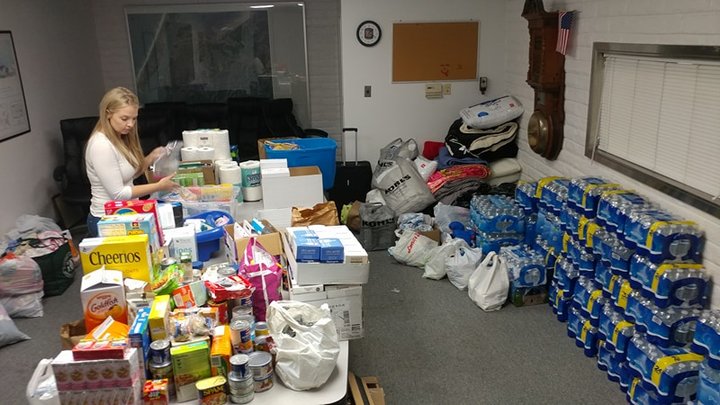 # # #
Original post:
As the devastating fires continue to burn in Santa Rosa, Napa County and Mendocino County, Eureka City Councilmember Austin Allison is coordinating a donation drive to assist the tens of thousands of people who have been forced to evacuate their homes.
Bill Reynolds, Humboldt Bay Fire's deputy fire chief, tells the Outpost that donations can be dropped off today until 7 p.m. at Humboldt Bay Fire Station One, 533 C Street in Eureka. (See map below.)
Allison, who serves as a director on Humboldt Bay Fire Joint Powers Authority board, has volunteered to drive the donated items down to Mendocino and Sonoma counties tonight or tomorrow morning.

"Please come in to the front entrance and the staff will be there to help out," Allison said.
Here are some of the needed supplies (UPDATE, 3:42 p.m.: Most needed items in bold):
Tents
Sleeping supplies: cots, sleeping bags, sleeping mats, easily inflatable mattresses, pillows and blankets
Water
Non-perishable food
Supplies: Air fans, chairs, water, toiletries, towels, pet food, and face masks
gloves
Personal hygiene products
Extra phone chargers
Diapers (adult and child)
Can openers
Toys and games: Fun things for kids to play with are needed at all sites
And any other comforts you think might help others in these hard times.